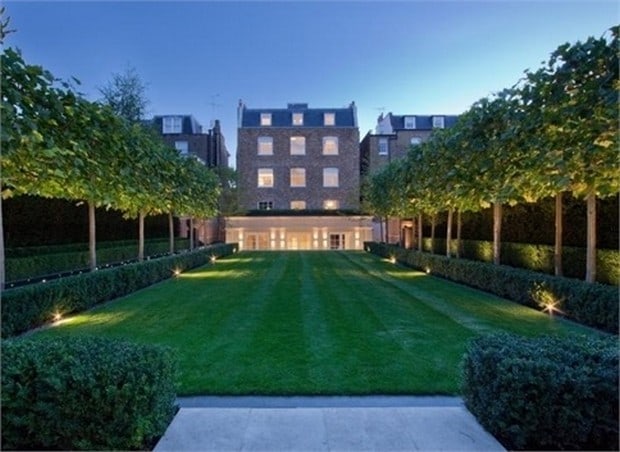 This luxury mansion from St. John's Wood, London is one of the most impressive properties from England, guarded by a huge gate with parking for two cars. The residence sports state of the art specifications, both inside and outside. The interiors were penned down by Bill Bennette, to share glamour and modernism.
The classiness of the interior is in tight connection with the modern lighting, noticeable from the moment one makes the first step inside. It tends to the needs of those who fancy working from home via his and hers offices, while a humongous kitchen features high-tech appliances and grandiose dining space with doors that extend over the entire width of the room. They lead out towards the private patio and landscaped garden that unfolds beyond.
The lower ground floor is the place of those who like exercising. It sports a leisure complex with pool, gym, massage/treatment room and a steam room, ready to tend to inhabitant's needs. A plush cinema with incorporated bar, along with a games room are ready to show you what the word "entertainment" actually means.
Going up, the first floor presents the master suite, an opulent spot decked with vaulted ceilings plus his and hers dressing areas and bathrooms. In addition, five more bedrooms with three bathrooms are ready to accommodate guests within the main residence. Attached to this, there is also a mews house, with three guest / staff bedrooms.
This one also boasts a private entrance and it's accessible via Northwick Mews or through the garden. In addition to all these, the property also features wine cupboard, laundry, store room, plant room, utility room and a reception hall by the entrance. Let's not forget that children have their own room especially designed for them.
Priced at $59 million, it's quite clear the estate is not meant for everyone. Opulence and elegance are two characteristics that the future owners will definitely have to desire, in case they're even thinking of buying such an exquisite residence.
[HomesOfTheRich]