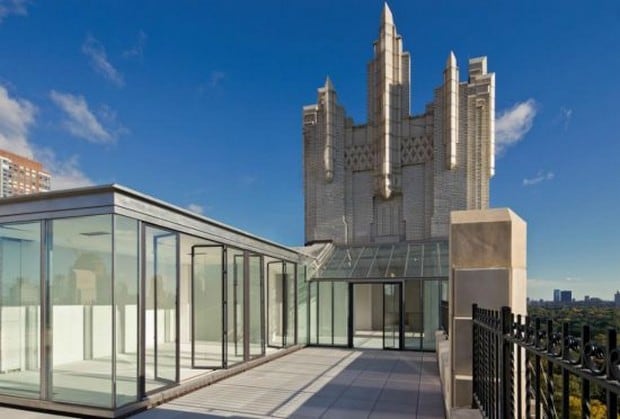 Now finding itself on the real estate market for the second time, this magnificent luxury duplex penthouse in New York used to be owned by the world renowned fashion creator Calvin Klein. It occupies a prime location, above the busy streets of New York City, near Central Park, and covers a total of 5,000 square feet.
By I bet you aren't expecting this – the fashion mogul has actually owned this penthouse twice! He first owned it during the 80s, when he had installed a hot tub on the roof-top terrace, while, during his second residence here, during the 90s, he came up with a redesigned interior, tearing down all the interior walls to create a much larger, open living area, in the most minimalistic style possible. The penthouse comprises 12 rooms, 4 bedrooms, 4 and a half bathrooms and comes with an additional 2,000 square feet of private terraces.
The superb penthouse is currently owned by the ex-record executive Steve Gottlieb, who has put away his initial grand plans of combining the empty space with the other residence he owns inside the same building, on the 18th floor, right below this one. The renovations had cost him around $5 million, the home now boasting with a 27 foot long living room, a 30 foot long dining room and a 37 foot gallery.
In addition, a superb master suite with stunning fireplace overlooks the Northern and Eastern terraces, including French doors which open towards the wrap terrace which faces eastwards. Needless to say, every single bedroom features full en suite bathrooms and large closets.
Gottlieb describes his lifestyle inside this marvelous apartment: "Every day is a miracle from up here." We forgot to mention it was also owned by David Geffen, famous entertainer, and had also served as the home of Superman, in the 1978 movie, with Christopher Reeve. The $35 million listing goes through Raphael de Niro and Howard Margolis, of Prudential Douglas Elliman Real Estate.
[Elliman]