The 15 Best Adventures You Can Take Right Now
What about a vacation? Everyone is longing for one, right? But what if that vacation was more than sipping cocktails on a beach and relaxing in a cozy hotel room? What if that vacation was something so memorable that you wouldn't forget it for the rest of your life? What about an adventure?
Yes, that's what you need. An adventure. Something that will stick with you every time you think of choosing a new travel destination, something that will change your perspective on life, that will enrich it with new meanings and dazzling experiences and leave you wanting more.
That's the power of an adventure. It pushes you out of your comfort zone, it makes you stare fear in the face and takes you beyond your known limits before leaving you in utter astonishment and longing for more on the other side.
If you're curious read on and find out which are The 15 Best Adventures You Can Take Right Now:
15. Climbing Active Volcanoes in Ubud, Bali
Bali. Beautiful beaches, crystal clear blue water, comfy resorts, tasty cocktails and fun in the sun… No, no, wait, let's rewind… Bali. Island of the Gods, astonishing scenery, climbing amazing mountains and dramatic volcanoes. Yeah, you read that right. Climbing active volcanoes. That should do for an adventure in Bali.
While Bali is famous for its rich culture and arts, generous warm people and wonderful beaches and resorts, you should know that in the heart of it lie some impressive volcanoes. One of them is Mount Agung, reaching 3.031 meters and which erupted last year in November and one last time on January 11 this year. But everything is going back on track right now and tourism is recovering. The last event will only add to the adventure.
14. Going on a Safari in Africa
Africa is one far away land that many dream of, and when they dream, they dream of a Safari. Be it Tanzania, Kenya or Uganda, going on a safari in Africa will leave you speechless with its amazing wilderness and large natural habitat, one of the last remaining places that huge and diverse on our little blue planet. Say hello to Timon and Pumba and his friends for us if you do go there.
13. Biking Bolivia's Death Road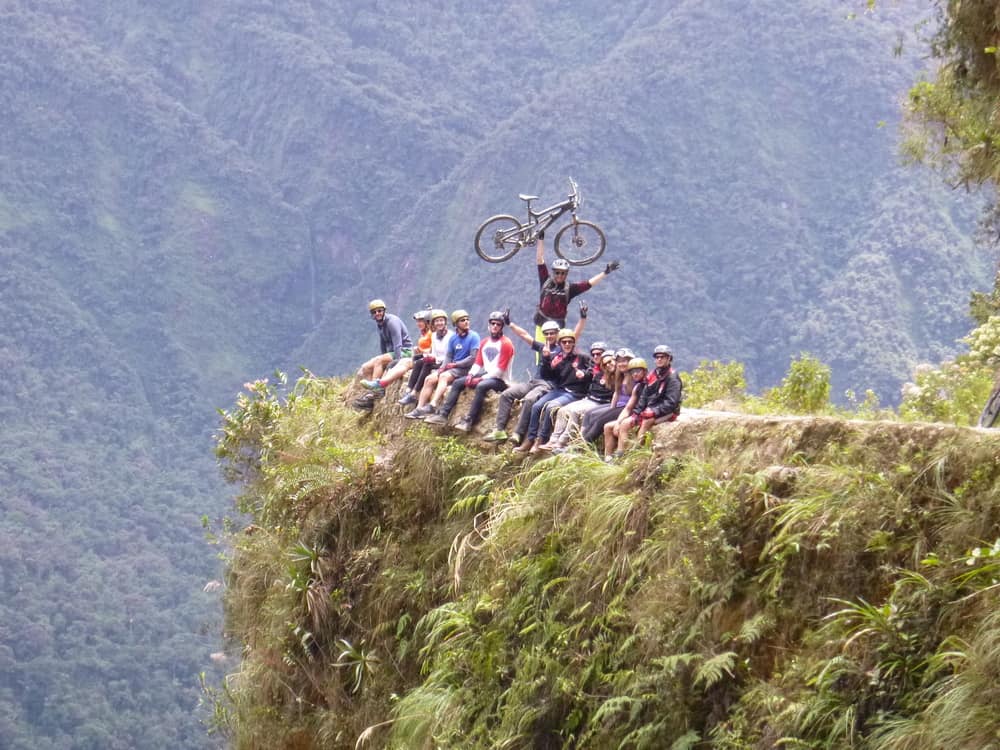 The North Yungas Road, also known as Bolivia's Death Road is famous all around the world because of the dangers that lurk behind every turn of the road. We're not talking about deadly snakes or angry wild animals here, but by rain, mud, fog, rockfalls, trucks, buses and jittery drivers.
With a length of 56 km and a dangerous width of only 3.2 meters, the road connects the capital La Paz to the town of Corioco, first ascending to 4,650 m and then descending to 1,200 m. It's one of the few routes that connect those regions, so it's heavy used. The whole thing sparked the interest of so many thrill seeking tourists around the world, the kind you won't see seeping cocktails on a beach.
To have the best views of the Amazon rain-forest, take a bike and ride it down that road. Oh, and… we wish you the best of luck.
12. Swimming with Whale Sharks in Australia
In western Australia, north of Perth, there's the Ningaloo Coast with its 260 kilometer long Ningaloo Reef. The waters in that region are home to a wide array of species, among which there are the Whale Sharks.
And one awesome thing you can do alongside the Whale Sharks is… you know… swim. Snorkeling and diving into the Ningaloo Reef brings you the opportunity to see manta rays, spinner dolphins, turtles and many more, but nothing compares to swimming with Whale Sharks. That would be something you wouldn't forget. Ever. While there are a few other spots in the world where you can do that, Ningaloo Reef, Australia might just be the best of them all.
11. Ice fishing in Finland
Finland. What adventure could you have there, in the cold? Oh well, there's ice fishing. Before you go on saying that this is no adventure, think of adventure in a different way. Think of ice fishing as of a meditation, looking for serenity in the wide open areas that a frozen lake has to offer. Catching the fish is a bonus, not a goal in itself.
The idea lies in the simplicity of it all. You wait for hours on end for something to happen and then nothing happens. That's when your mind becomes clear without any expectation and effort. That's exactly what an adventure – any adventure – does to you. Just make sure you wear your warmest clothes. And beware of thin ice.
10. Sky diving over Dubai
While everybody talks about the magnificent sights that they saw while traveling in Dubai, few ever experience the best views Dubai has to offer. From above, that is.
Since you're reading this, we assume you're not thrilled by just visiting the malls Dubai has to offer, so sky diving is the way to go for you. It's one of the best ways to experience the impressive palm island on the coast of Dubai and the grandeur of the city with all its magnificent sky-scrapers. So take that step. No fear!
9. Desert camping near the Ayers Rock
If camping doesn't sound too fancy for some of you, what about 'glamping'? Never heard of it? The term comes from combining glamour and camping, which leads to glamorous camping. There you go: glamping. The accommodation is made in luxury tents, so you'll get all the comfort of a hotel in a tent.
Where is that? In Australia, near the majestic Uluru, also known as Ayers Rock, a UNESCO World Heritage Site, considered by the Aboriginal people to be sacred. Think of ancient paintings, springs, waterholes and rock caves to admire if you choose to stay there for a few nights.
8. Swimming with pigs in the Bahamas
Ok, there are all kinds of adventures in this world, but this one surpasses all. Swimming with pigs. Pigs don't swim, right? Wrong. The pigs stranded on The Exumas in the Bahamas do swim. Nobody knows where they came from, but clearly the had to learn how to swim.
You can find them on Pig Beach, on Big Major Cay island, and why not, sunbathe, have fun and swim along with them. They seem to be quite friendly and very good swimmers. And don't forget the selfies. The pigs adore them as well.
7. Hot air ballooning in Cappadocia
Cappadocia, Turkey is your classic hot air balloon adventure. Full of geological, historical and cultural landmarks, Cappadocia offers a remarkable sight to those who venture up above in a hot air balloon.
Slowly flying around the surreal and spectacular landscape, above valleys, pigeon houses, vineyards and orchards is one amazing adventure not to be missed. A slow one, but worth it nonetheless.
6. Zorbing in New Zealand
Now this is a fun one. Zorbing. For those of you who haven't yet heard of zorbing, it's rolling down a gentle hill inside an orb made of transparent plastic. And why in New Zealand when there are hills all over the world? Because that's where it all started.
Rotorua, New Zealand was the first zorbing site in the world, and boy do they have wonderful, gentle and pleasant-to-roll-on hills.
5. Protecting the sea turtles of Costa Rica
Costa Rica offers an out of the ordinary adventure while volunteering for protecting the sea turtles from poachers. The turtles are quite a lovely sight, so protecting them feels right at home with most people.
Should you embark on this adventure, your mission would be helping baby turtles get to the ocean. You might need to wake up early and go back to sleep late at night, but hey, you're doing a good thing helping those little turtles.
4. Hiking to Machu Picchu
Machu Picchu is maybe one of the most known images in the whole world, as everybody is taking pictures with the most visited attraction in Peru. While most of the tourists go there the easy way, by train, for the ones looking for an adventure there's always the option of hiking for a few days to get there.
The only downside is that it's required to book a guided tour as you're not allowed to go by yourself, which makes it less of an adventure, but still a lot more fun than taking the easy way up.
3. Dog sledding through Sweden
It's said that Santa Claus lives in Lapland, that far away magical land of frozen beauty in the north of Sweden, above the Arctic Circle. You could pay him a visit one day, by dog sledding your way there. That will count as an amazing adventure, don't you think?
There are lots of dog sledding expeditions that will take you across frozen rivers and valleys for days in a row, meeting indigenous people traveling in traditional reindeer driven sleds. And if you think that this adventure will freeze your bones, think not, since every night you'll have access to a sauna to get the warmth back into your bones.
2. Climbing the Sydney Harbor Bridge
What would you say about climbing a bridge? And not just any bridge but the Sydney Harbor Bridge. We've all seen videos on YouTube about crazy people doing crazy stuff like… you know… climbing on top of a bridge. But what if we told you that you could do that totally safe?
Yes, while climbing the Sydney Harbor Bridge you'll have all the safety gear you need and be supervised as well by a team of safety technicians to ensure that all goes well. You only need to bring your sunglasses and some comfy shoes. The view from up there is gorgeous. You'll get to see the city skyline with its beautiful harbor and everything else around.
1. White Shark diving in Cape Town
If all the above sound like nothing to you, then this adventure should be on your taste. Diving along the Great White Shark in Cape Town. You've probably heard that the White Shark is the most bad-ass and feared predator in the oceans. There's nothing above him in the food chain, not even you.
What you can do though is enter a steel cage and get lowered into the water swarming with frenzied sharks and be amazed. Or as frightened as you'll ever be. For like 30 minutes. That should be enough to be able to say you've had the greatest adventure of your life. Meeting the Great White face to face.