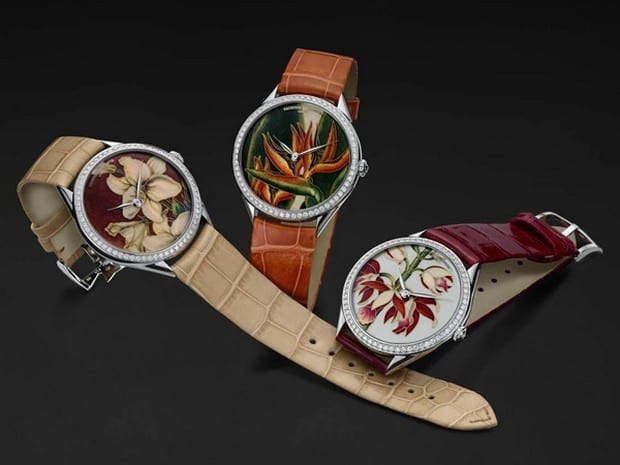 Established in the 18th century, Vacheron Constantin is one of the oldest and most successful manufacturers of timepieces of all time. Maybe the year 1755 just suggests a temporal placement for the brand, but for us it is the start of an era – an era of exquisite timekeeping manufacture, an era of technological excellence.
Just like every series signed Vacheron Constantin, the Métiers d'Art Florilège collection reflects the full years that have passed since the founding of the watchmaker. Furthermore, it represents much of the journey Vacheron Constantin has decided to embark on for 2013 – timepieces for the mild gender.
The collection was created for the SIHH 2013 and comprises three distinct pieces that pay tribute to an English botanical illustration from the 19th century. The work in discussion was published back in 1799 – "The Temple of Flora" by Robert John Thornton. Even though botanical sciences have known dramatic advances, the work is still considered extremely significant to the researchers in the respective field and to historians alike.
In order to be able to design and develop these pieces more precisely, officials behind Vacheron Constantin have employed independent artist specialized in miniatures and Geneva-style fired enamels Anita Porchet. Apart from the exquisite work, with Grand Feu cloisonné enamels and guilloché engravings, the three timepieces were garnished with diamond-set bezels.
Painstaking effort has been invested into the development, design and manufacture of this magnificent pieces. The engine turners cut lines as thin as a tenth of a millimeter apart in order for such perfect symmetry to be achieved, process followed by the enamellers, who carefully add thin enclosures of color-filled gold. The enamel is later fired at 800 degree C, in specially designed ovens, a process which gets repeated until the enamel becomes translucent enough.
In addition, I also feel like mentioning the names of the three models. These are the White Lily, the China Limodoron and the Queen watch. They have all been mounted the mechanical manual winding calibre 4400, an extremely accurate movement. In addition, the watches are bestowed with 65-hour power reserves and further hand-decked and bevelled pieces, like the baseplate and bridges. These genuine artworks are completed with feminine color patterns and leather straps. Each of the bezels has been fitted with round cut diamonds.
Out of the total of 20 pieces, in this limited edition collection, 5 are set with baguette cut diamonds, created exclusively for Vacheron's boutiques. Each of the pieces bears the mark of Geneva, proving the intense work that was invested in their development.
[Vacheron-Constantin]