20 High-End Watches for Women With Fine Taste
Published on January 12, 2023
As you read this article, some of you may be wondering, "What's the big deal with luxury watches?" Breathe in! We will explain what all the fuss is about. Timepieces empower us with a means of self-expression. Why would someone wear a watch if they did not care about time? There you have it. The first impression matters. A lot!
Even if you don't know much about timepieces, just seeing someone wearing a high-end watch conveys an image of reliability and attention to detail. Brand nerds, on the other hand, can't help but take note of the specific piece you're sporting, recognizing the value of the label and the consideration that went into the selection of that watch.
Thus, wearing a luxury watch does more than just tell time; it shows you appreciate meticulously produced items. A woman who wears a Rolex timepiece is likely to be a perfectionist who enjoys style icons. This implies that she is not easily swayed by short-lived trends and would rather buy a classic piece that will stand the test of time.
Women & The Luxury Watch Blast
Did you know that the first wristwatches were worn by women? The Hungarian Countess Koscowicz commissioned Patek Philippe to make a piece of jewelry that doubled as a watch in 1868, ushering in a new era of glitzy multipurpose timepieces. Not until the early 1900s did men begin to replace their pocket items with wristwatches.
Certainly, women have been fans of luxury watches for centuries, but it seems that only recently have we become less reserved about sharing our passion. Lockdown, or a life on hold combined with a distinct sense of ennui, prompted us to rediscover old interests through social media.
Gone are the days when a woman's watch was supposed to be delicate and almost jewelry-like, and when ladies seeking a practical or technically advanced timepiece had to look to the top men's watches to meet their utilitarian and aesthetic demands.
The facile "let's just take a man's timepiece and make it smaller, pink, and with diamonds" that many watch brands have relied on historically for women's items has worn thin. We need more! We expect more! Fortunately, there are notable brands that have been making watches with women in mind.
Is there a reason it took so long for Haute Horlogerie to evolve? Well, think about this: these brands have existed for nearly 200 years. Given the luxury sector's penchant for slow adaptation, when making something timeless, any changes that are implemented will have to remain for the long term. However, the industry is starting to listen.
Lately, the finest luxury watch manufacturers (think Cartier, Patek Philippe, Rolex, and Vacheron Constantin) offer a wide range of women's timepieces that are both exquisitely crafted and extremely stylish. This means that women are now taking an active role in the once-men-exclusive hobby of collecting deluxe watches.
High-End Watches for Women With Fine Taste
To get you started, we've compiled a list of 20 classic, high-end women's watches that would make excellent additions to any collection.
What's even better? They're nonpareil whether you want something to pass down through generations, something to turn heads on a night out, or something unpretentious to wear every day. Intrigued? Read on!
20. Rolex Datejust Pearlmaster 34 Goldust Dream Roman Diamonds
In the field of Haute Horlogerie, fine watchmakers are held in the same regard as artists. To put it simply, their work is as exquisite as that of any other high-end jewelry label. Their creations are worth thousands, if not millions, of dollars due to their refined engineering and panache. The Rolex Pearlmaster 34 is the quintessence of that.
Whether displayed on a pedestal or worn on the wrist, its design will mesmerize anyone who sees it. This model is a limited-edition timepiece that combines the best elements of two of the top ladies' collections from the Swiss manufacturer: the Datejust and the Pearlmaster.
It is also worth noting that this watch has been officially certified as a Swiss chronometer, ensuring that its inner mechanisms and durability are as exemplary as its appearance. Well, one thing is certain: the Rolex Pearlmaster 34 Goldust Dream Roman Diamonds doesn't just tell time; it tells history.
19. Patek Philippe – Twenty~4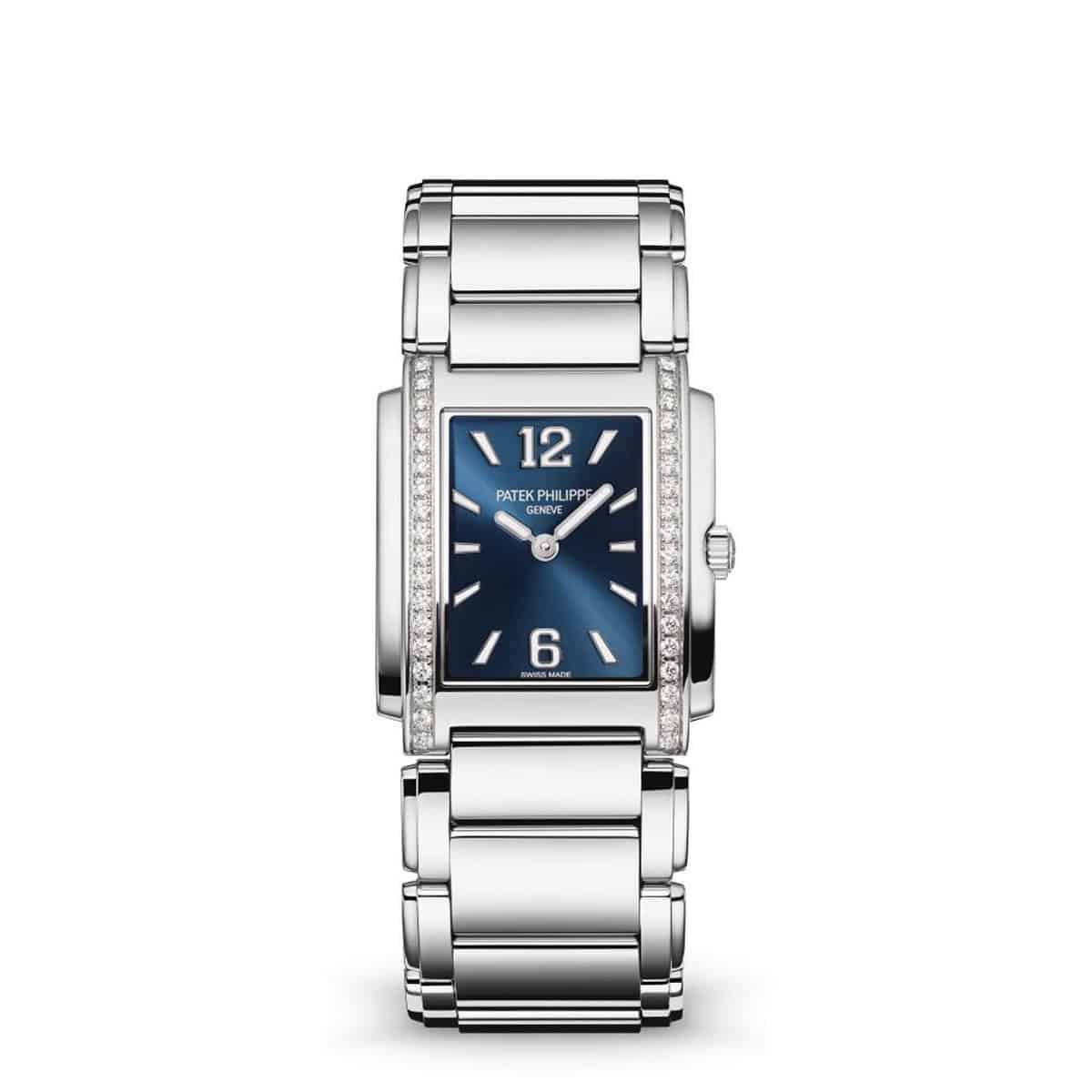 Ever since the Patek Philippe Twenty-4 was released in 1999, we've been particularly fond of the timepiece. It has been enticing to see this unique women's collection develop gracefully over the years while remaining the go-to watch for confident, career-driven women.
And with the release of three new variants, one powered by quartz and two by mechanical movements, the classic Twenty 4 is keeping its innovative character alive. The inspiration behind this watch came from the desire to provide ladies with a "beautiful expression of today's contemporary woman" that they may wear all the time.
To meet this challenge, Patek Philippe returned to its roots without sacrificing creativity and conceived the Twenty 4 as a nod to the Art Deco era's favored manchette bracelets. Some may also see this watch as a stylized Gondolo, and they would not be entirely off base in doing so.
However, whereas the Gondolo is more classic in appearance, the Twenty-4 is thoroughly cutting-edge. By deftly blending different-sized and shaped rectangles, the brand achieved the ideal compromise between a piece of jewelry and a timepiece, giving this beauty a distinctive appearance while still being comfortable to wear.
18. Arnold & Son Perpetual Moon Eclipse
There are several defining moments in one's life that are indelible, but there are high points in everyone's horological history that also stick with them forever. The charm of the industry is that no one can claim to have experienced all it has to offer. It's possible to get near, but not close enough to light the cigar.
But in the gaps between these incredible spectacles, we seek out other celestial sights, and astronomical timepieces are often where we find them. Moon phases are among our most cherished watch designs, and the Arnold & Son Perpetual Moon Eclipse is a brilliant representation of the concept.
The finishing stroke here is that this is the brand's first piece developed, adorned, and powered for women. But wow, it is indeed a fantastic moon phase complication watch, all sparkling with a sensuality that leaves you wanting more. This item is for the lucky few girls who would love to have the splendor of the night sky engraved on their wrists.
17. A. Lange & Söhne Little Lange 1 Moon Phase
The Little Lange 1 Moon Phase, introduced in 2021, was one of the label's simplest models available at the time, but it was also one of the most instantly appealing. Its dial was fashioned of aventurine glass, or "gold flux," as the brand calls it, a material not often seen on timepieces but always well received.
The Lange 1 was launched in 1994, and it came with a lot of buzz about the asymmetrical dial and its 38.5 mm diameter. In addition to the standard hour and minute hands, it also displayed a running second hand, a date window, and a power reserve indicator. Since its inception, though, the watch has seen many revisions.
Despite the new model's glistening reflective dial, it remains discrete on the wrist thanks to its dark hues and white metal case, which dampen the watch's glimmer caused by the metallic inclusion in the glass.
Everything considered, the A. Lange & Sohne Little Lange 1 Moon Phase is the perfect marriage between feminine and masculine, all without trying too hard.
16. Breguet Reine de Naples 8918
Aside from being an emblematic Breguet timepiece, the Reine de Naples is also a trademark for the entire watchmaking industry. This spectacular collection was formed from the connection between Abraham Louis Breguet and Caroline Murat, nee Bonaparte, Queen Consort of Naples from 1808 until 1815.
More than thirty Breguet timepieces would end up in Caroline Murat's inventory throughout her life. Among these was a one-of-a-kind, oval-shaped wristwatch that had a repeating mechanism and a thermometer.
That watch served as inspiration for the Breguet Reine de Naples series, which debuted in 2002 and has since expanded to include a wide variety of models based on the distinctive oval design of the original.
Thus, the Reine de Naples watch is firmly rooted in traditional concepts of what a ladies' timepiece should be and what it means to exhibit one's femininity. Even though the idea may seem archaic to some in the modern world, we believe that the watch industry still has room for such a statement.
15. Blancpain Ladybird St. Valentin 2022
Blancpain's watchmakers have been honoring St. Valentine's Day for over 20 years, and with good reason, since the Le Brassus manufacturer has no interest in fads.
A mark of eternity, the Ladybird St. Valentin 2022 is a timepiece made with the utmost care and attention to detail to ensure that it will one day adorn the wrist of the person who will wear it as a symbol of their undying love and devotion.
Sweet, fiery, infinite love is represented by a white mother-of-pearl dial set out by polished red numerals and a circle of diamonds. The second hand, depicted here as a red heart, constantly sweeps the area, tying the watch's design together.
When Blancpain unveiled the Ladybird in 1956, it did so with the elegance that has come to characterize the brand's most enduring collections. Still, the latest edition manages to top the sweetness of previous years, guaranteeing that you will charm even more than you already do.
14. Piaget Limelight Gala
Piaget's reputation for skillfully fusing precious stones with exquisitely crafted mechanisms is on full display with the Limelight Gala Watch.
In 1964, the company added a new dimension to its line by releasing its first watch with a stone dial. Jade, tiger's eye, opal, and lapis lazuli dials were just some of the many varieties of natural stones provided by the brand in its extensive catalog. Therefore, Gala has indeed become a historic moniker for Piaget.
The name comes from Gala, born Elena Ivanovna Diakonova, also known as Salvador Dali's wife. Introduced in 1973 and featuring reverse symmetry and a feminine line, the Gala watch became a classic. It was reissued in 2013, and it is now a fashion staple for women around the world.
Wear it with a pair of dark sunglasses, not only to avoid paparazzi but also to protect your eyes from the blinding light emitted by the watch dial. Go forth and dazzle, my dear!
13. Patek Philippe Nautilus 7010/1R-011
Every once in a while, gold is the only option for luxury. No other color or metal can compare to gold for exuding an air of opulent wealth and exuberant grandeur. The Swiss-made 7010/1R-011 watch stands out due to its excessive use of gold throughout.
Its golden allure cannot be ignored, even if some people think the gilding is excessive. The ladies' version of the Nautilus watch has the same rounded octagonal bezel and signature horizontal embossing on the dial as the men's edition. Here, though, 46 diamonds lend it a dramatic accent, further highlighting the one-of-a-kind design.
Blurring the line between jewelry and timepiece, the Patek Philippe Nautilus 7010/1R-011 is a piece that is made to be seen. And how could you miss it?
It's no secret that the Breitling Navitimer is the label's bread and butter. It was first released in 1952 as the popular pilot's watch Ref. 806, and since then it has been delivered in a variety of updated forms. In 2020, the brand launched the Navitimer Automatic 35, designed specifically for women.
When George Kern became CEO in 2017, he made it his mission to modernize a global bestseller. Among the many things he did to make the company more diverse was to shift away from overly masculine marketing and introduce timepieces like the 2018's Navitimer 38 that would appeal to both men and women.
Intended for strong, independent women who know what they want and go get it, the latest iteration of the Navitimer reflects more than 65 years of history with a distinctive, refined character. Thus, wearing a Breitling Navitimer Automatic 35 not only represents the woman's style but also continues one of the finest traditions in watchmaking.
11. Omega Constellation Ladies
For today's woman, a watch is both a statement accessory and a functional item. Eternity, modern design, outstanding craftsmanship, and understated elegance make ultrafeminine watches desirable and appropriate for both t-shirts and satin slip dresses. Meet the Omega Constellation!
The timeless design by Carol Didisheim revolutionized unisex timepieces since they could have been worn with equal ease by both sexes. However, there is now an updated version of the classic Omega Constellation Manhattan dedicated only to ladies.
After all, the Constellation has a rich heritage that began in the early 1950s and featured some of the most cherished dress watch designs ever produced by Omega. Thus, the new collection represents two sides of the same coin, and with the brand's indisputable legacy, we figured it would be prudent to give it a fair shot with some wrist time.
10. Cartier Panthere de Cartier Medium
The Cartier Panthere watch, a fashion staple since the 1980s, is making a comeback after an extended absence. You know, fashion and trends are like the tides; they come and go. Watches are no exception.
Released in the heyday of extravagance and lauded for its minimalist design, hidden clasp, and link bracelet, the Panthere gained instant fame among the elite, including Madonna, Gwyneth Paltrow, and Jane Fonda. It's no wonder that this watch was well-liked at a time when glamour ruled the night and Studio 54 was at its peak.
But what does this have to do with the Panthere? Well, what we find most interesting about it is that, even though it's just a women's watch, it was a big deal for Cartier at a time when watches were getting cheaper and must have been a freedom fighter for a heritage mansion trying to restore its foothold in the global market.
The new Panthere is spectacular while remaining understated and functional, and it does so effortlessly, which is also the key to its widespread popularity. To us, the best part about this high-end timepiece is that it has a classic look that works for everybody, from a conservative Ivy Leaguer to a trendy Voguette.
9. Vacheron Constantin Traditionnelle Small Model
The evening gown hasn't altered much since the turn of the 20th century, and there's a good reason for that: embracing a tradition serves the purpose of bringing us closer to the past and giving a comforting feeling of continuity.
In light of this, it is safe to say the Traditionnelle collection from Vacheron Constantin, which is infused with heritage and displays technical finesse through remarkable features, represents the epitome of the most rigorous standards of Geneva Haute Horlogerie.
Therefore, the Vacheron Constantin Traditionnelle Small Model is a monument to the skills and expertise that have been passed down through the ages.
It just looks like it was imported to 2022 from 1955, with the dial elements and quality of the case's execution being both top-notch.
8. Audemars Piguet Royal Oak Quartz
The AP Royal Oak's innovative style has won the hearts of watch aficionados ever since it was first introduced in 1972. What started as a spur-of-the-moment concept by Gerald Genta has become an instant classic and is widely regarded as the pinnacle of watchmaking.
Not only was the AP Royal Oak the first luxury steel sports timekeeper when it was released, but its groundbreaking design also sent shockwaves across the watchmaking industry. Although it is a sport watch with a water resistance of up to 50 meters, its casing is only 7 mm thick, giving it the appearance of a dress watch.
The thinner something is, the more comfortable it will be, yet it is challenging to achieve both durability and slimness at the same time. To do this, Genta split the case in two and installed a gasket between the bezel and the body. In other words, nothing frivolous ever takes precedence over what's fundamental when talking about Audemars Piguet.
7. Jaeger-LeCoultre Rendez-Vous
A luxury watch is tantamount to a time capsule in that it transports the wearer back to the days of imperial pomp and old-fashioned elegance. And when Jaeger-LeCoultre introduced the Rendez-Vous line in 2012, it really struck a chord.
Finally, a watchmaker took women seriously and crafted quality pieces with reliable mechanical movements, sophisticated designs, and attention to every detail. Therefore, the product range rapidly became a cornerstone of the company's identity, and it expanded from modest quartz date watches to elaborate complications like tourbillons.
Even though a few intricately fabulous artistic editions have been added over the years, the foundation of the Rendez-Vous bundle still reaches that aesthetic balancing act: feminine without being soft, refined without being extravagant, simple yet full of details, suitable for daily wear, and dazzling enough for evening. And it does dazzle!
6. Chopard Imperiale 36 mm
With the motto "I for Iconic, I for Inspiring, I for Imperiale", Chopard has perfectly summed up the essence of this extravagant timepiece, crafted from the world's finest materials. Flashy as it gets, but without being too grandiloquent, this Chopard timekeeper might be the epitome of perfection.
Chopard is characterized by exceptional quality, so this watch is a must-have if you wish to dominate the competition with style and confidence. This robust yet fashionable item is a wonderful heirloom, whether you are a business magnate or an aristocrat of the highest caliber.
In fact, the watch has so many appealing features that calling it iconic or inspiring is not an exaggeration. Wear it with only the finest attire, and you will be ready to gain control of any situation. Time is money, right? Tic-tac!
5. Vacheron Constantin Égérie Self Winding
Launching an entirely new watch series, not just some slight modifications to an existing line, is a high-stakes gamble with major financial consequences, including the expense of design as well as the potential loss of both brand image and profits in the event of a flop. That's why it's a rare scenario.
The introduction of a brand-new women's watch collection is even more unusual. But when Vacheron Constantin released the Egerie line in 2020 as a striking homage to women, we understood that everything is possible.
First of all, we appreciate Vacheron's strength of character for not going with a completely safe and easy name. Its roots aren't obvious unless you know a thing or two about mythology, but Egerie comes from Egeria, an ancient Roman nymph, and means "muse" or "inspiration."
Rich, sumptuous, full, robust, energetic, and mesmerizing are the first words that come to mind when you first see this watch.
Even though it is an unquestionably feminine piece, it has nothing girly about it. Creamy-white dials with a lot of texture and detail, as well as an asymmetric layout, lift its design well above the conventional timepiece.
4. Breitling Galactic 36
Our galaxy, also known as the Milky Way, is a vast and truly remarkable assortment of stars, dust, planets, and matter. So, it makes sense that Breitling named this watch "Galactic", given that it encompasses the brand's universe by combining its finest qualities.
An ultra-sporty appearance mixed with elegance, an edge of toughness, and some delicate touches culminate in a wristwatch that is suitable for any occasion. Thus, this piece was obviously made for the kind of woman who can go from hiking in the Alps during the day to a gala dinner in Monaco at night.
With this beauty, you may proudly show off the unabashed statement of Breitling's identity as a watchmaker that guarantees a rich legacy. In contrast to other women's timepieces, the Breitling Galactic features a rough refinement coated in elegant class for those ladies who don't mind getting their hands dirty and wrists gracious.
3

.

Rolex Oyster Perpetual Datejust 31
Rolex needs no introduction. However, there's more to the story. It all began in England in 1905, when German watchmakers Hans Wilsdorf and his brother-in-law Alfred Davis established the watch brand Wilsdorf and Davis. As time went by, the label set itself apart as a pioneer in the industry by introducing several groundbreaking features.
To mark the company's 40th anniversary, Rolex released the first Datejust in 1945. It was the first self-winding timepiece to have a date window that would advance to the next date at noon and was made to be worn by anyone, unlike the more specialized Submariner, Daytona, and Sky-Dweller models.
Rolex has unveiled three new iterations of the Datejust 31 with beautiful dials inspired by nature that are like bursts of color, an ethereal shimmer of poetry, and a revitalization of spirit. As one of the most feminine pieces on the market today, it's made to stun, and dare we say, the perfect statement watch.
2. Cartier Tank Louis Cartier
No best-of collection would be complete without a Cartier Tank, inspired by the actual tanks on the front lines of WWI and a collectible for men and women alike. However, as Louis Cartier's timepiece, the Tank Louis is the gold standard against which all other Tank watches are measured.
Your horological heart must be made of stone to remain unmoved by this masterpiece. The Cartier Tank is not merely well-known; it is a phenomenon. Jackie Kennedy loved it, Michelle Obama loved it, Angelia Jolie adored it, and the list is unfathomably long; prominent figures from nearly all fields had one.
The Cartier Tank caused waves in a world dominated by circular timepieces, showcasing the brand's passion for Art Deco. Since it was first made, the Cartier Tank Louis has had almost the same rectangular body and straight lugs we worship today, which also makes it one of the most recognizable watches in history.
Contrary to some of the brands on our list, Cartier has an abundance of designs that do not involve gemstones. In fact, they manufacture classic timepieces that are suitable for both casual and formal events. Therefore, if you're looking for a watch that caters to sophisticated yet cool women, the Cartier Tank Louis is your best bet.
1. IWC Portofino Automatic Day & Night 37
For almost 40 years, the timeless elegance of the IWC Portofino watches has represented the carefree spirit of the Mediterranean and the pinnacle of sophistication, revitalizing the brand's legacy of producing reliable classic timepieces. This three-hand automatic watch is one of the brand's best-sellers thanks to its understated charm.
Being the first 37 mm Portofino to have the creative day and night complication, this masterpiece boasts a fascinating way to see the passage of time. The exact moment of the day is displayed via a disc at 6 o'clock that spins on its axis once per day. Also, the sun or moon appear at the top of the screen at midday and midnight, respectively.
In terms of aesthetics, the Portofino stands out for its design and modern feel. The dial is minimalistic with Roman numerals and basic hour markers, and it is rounded out by thin Feuille hands.
Its never dying style makes it an excellent asset to any wardrobe, whether you're going for business or casual. With the IWC Portofino Automatic Day & Night 37, you not only have a collector's item but also a conversation starter.
Final Thoughts
These timepieces are more than just high-quality items; they are also works of art, designed to be worn and admired for decades. Therefore, this curated list will assist you in selecting a timepiece that is both fashionable and durable, whether you're gifting it or buying one for yourself.
Ranging from sporty and sturdy to elegant and sophisticated, each of these high-end watches has its own unique features and strong personality.