The top 29 Most Expensive Watches in the world
A stylish watch is probably the ultimate fashion accessory and if you have a thing for watches, you probably know how expensive a beautifully designed timepiece could get. Renowned watchmakers from all over the world use diamonds, platinum, fancy tourbillons, chronographs and perpetual calendars to impress everyone with their most expensive creations.
Business Week asked the most prestigious luxury watch manufacturers about their priciest products currently on the market and that's how we made this list with the most expensive watches in the world. Prices range from $75,000 to a staggering $4,599,487 for the most expensive watch in the list.
29. Baume & Mercier – William Baume Flying Tourbillon
Price: $75,000
The William Baume Tourbillon features a "flying tourbillon" held in place on only one side, a black dial and black alligator strap. The flying tourbillon is in the 9 o`clock position and in the 6 o`clock position a small seconds display is present. The watch is limited to just 10 units worldwide and it has a 52-hour power reserve.
28. Tag Heuer – Monaco V4
Price: $80,000
Tag Heuer was inspired by cars when they designed this watch and engineered the world's very first and only belt-driven timepiece. The design is more shock resistant and also requires less maintenance because of the belts and micro ball bearings. An alligator leather strap and a platinum case are the other goodies that come with this watch of which only 150 were manufactured.
27. JeanRichard – Paramount Tourbillon Linear Power Reserve
Price: $128,000
JeanRichard is an independent Swiss watchmaker and this unique tourbillon is probably his most important creation. The Paramont Tourbillon watch uses a linear indicator for the 72-hour power reserve and it comes in an 18 carat white gold case. The stylish watch is paired with a rubber covered alligator strap.
26. Glashütte Original – Julius Assmann 4 in white gold
Price: $161,000
This watch from Glashütte Original was released on the market in 2007 and it features a unique retrograde hour display and tourbillon. It can be worn as a wristwatch or pocket watch and it's also offered in "cheaper" versions in rose gold or red gold for $145,000.
25. Porsche Design – Indicator P´6910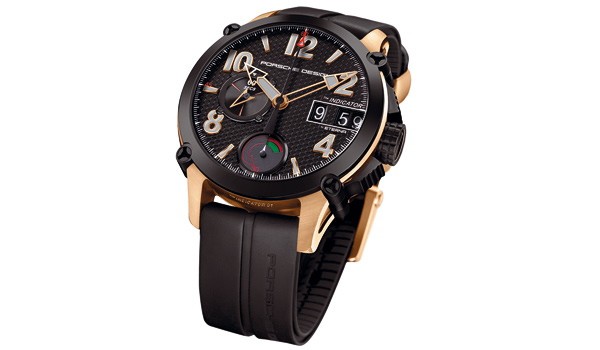 Price: $225,000
12 Engineers and watchmakers from Porsche Design created this masterpiece from around 800 individual parts. The P' 6910 is the world's first chronograph with a mechanical-digital stopwatch function display. It can record up to 9 hours and 59 minutes and it's available in three variants.
24. Panerai – L'Astronomo Luminor Tourbillon 1950 Equation of Time
Price: $235,000
Panerai unveiled the L`Astronomo only this year at the 2010 Salon International de la Haute Horlogerie in Gevena. The watch was developed as a tribute to Galileo Galilei and it will be produced in a limited run of just 30 units. Clients can specify their hometown, which is engraved on the back near a rotating sky chart of the city. The dial of the watch also displays the sunrise and sunset times of the chosen city.
23. Breitling – Grande Complication
Price: $280,716
Breitling also unveiled this luxurious pocket watch in 2010, featuring a perpetual calendar that displays the date, day, month, leap years and moon phases. The watch also has a minute repeater that strikes the hours, quarter and minutes on demand and it was built from around 700 parts. It comes in an 18 carat yellow gold case which features an engraving of the founder of Bentley.
22. IWC – Grande Complication
Price: $318,000
The Grande Complication collection was laughed by IMC 20 years ago and the most expensive version has a platinum case and bracelet. It features a perpetual calendar with moon phase, and a minute repeater combined with a chronograph with an automatic movement. Only 50 pieces of this watch are produced every year.
21. Concord – C1 Tourbillon Gravity
Price: $320,000
The C1 Tourbillon Gravity features a unique seconds display located on the side of the 18 carat white gold case. The watch also has a flyback chronograph and 84-hour power reserve and it could resist under water up to 30 meters.
20. Montblanc – Grand Tourbillon Heures Mysterieuses
Price: $365,750
The Grand Tourbillon Heures Mysterieuses is available in 18 carat white gold, limited to eight pieces, each being priced at $319,000, 18 carat red gold, also limited to eight pieces, each priced at $302,500 and, the most expensive version, a one-off platinum timepiece.
19. Chopard – Secret
Price: $508,000
Chopard's Secret features a square pave set diamond dial and frame inside a case composed of brilliant diamonds with a total of 19 carats. The watch comes with a satin strap and a baguette-cut diamond clasp. The Swiss watchmaker has only produced two Secret watches so far.
18. A. Lange & Söhne – Tourbograph "Pour le Mérite"
Price: $508,900
A. Lange & Söhne has manufactured only 50 units of this watch which is made from honey gold and features a one-minute tourbillon and a double chronograph. The company is part o the Richemont Group today and these limited edition watches can be purchased only in New York, Dresden, Shanghai or Tokyo.
17. de Grisogono – Meccanico dG S25D
Price: $590,000
The Meccanico dG collection with badnette diamonds was launched by de Grisogono at this year's Baselworld. The most expensive of them, the S25D, was produced in just 20 units and it's available in three versions: with bagnette diamonds, with white pave diamonds or black pave diamonds. The watch displays two time zones and has both analong and digital displays and a power reserve indicator.
16. Girard-Perregaux – Vintage Jackpot Tourbillon
Price: $625,000
The Jackpot Tourbillon is made with rose gold and features a manual wind movement with 38 jewels and power reserve of 96 hours. The watch features a decorative slot machine that chimes whenever the lever is pulled. It also comes with a folding buckle on a crocodile strap.
15. Greubel Forsey – Quadruple Tourbillon
Price: $690,000
This complex watch has an asymmetrical platinum case and two beautiful separate double tourbillons which were made of a total of 531 parts. The watchmaker is well known for offering two or even four tourbillon mechanisms in the same watch case and this is probably his best creation. An alligator leather strap also comes with this beautiful timepiece.
14. Vacheron Constantin – Malte Tourbillon Regulator
Price: $700,000
The Malte Tourbillon Regulator has 263 baguette-cut diamonds embedded on its dial and 274 baguette-cut diamonds embedded on its case. It features a tourbillon at 6 o`clock and it comes with a black leather strap. The case is in the classic shape of the Malte collection.
13. Omega – Constellation Baguette
Price: $708,742
The Constellation Baguette is a one of a kind watch from Omega with 459 Top Weselton embedded diamonds, totaling over 30 carats. The case of the watch is made of 18 carat white gold but it's completely covered by 146 baguette and trapeze diamonds on the dial.
12. Breguet – Classique 5349 Grande Complication
Price: $755,000
The Classique 5349 Grande Complication from Breguet features a dial covered in diamonds and twin rotating tourbillons in a platinum case with embedded baguette-cut diamonds. The watch was built from more than 570 parts and it has three patents to protect its superior precision and technology.
11. Audemars Piguet – Jules Audemars Grande Complication
Price: $780,600
This one of a kind, self winding skeleton watch has a titanium case and features a perpetual calendar which indicates the hours, minutes, day, date, week, moon phases, month and leap years. The watch also has a minute repeater chronograph and a crocodile leather strap.
10. Jacob & Co. – Crystal Tourbillon
Price: $900,000
The Crystal Tourbillon has an 18 carat gold case covered in baguette-cut diamonds which total 17.48 carats and it also has a transparent skeleton tourbillon dial. Only 18 pieces of this watch were manufactured by Jacob & Co. The watch is finished with an alligator band with a 2.22 carat baguette diamond buckle.
9. Hublot – Million $ Black Caviar Bang
Price: $1,000,000

The Black Caviar Bang from Hublot has the case, crown dial and clasp encrusted in baguette-cut black diamonds. The watch has 544 diamonds, with a total of 34.5 carats and it has no numbers on its dial. It has an adjustable leather strap and last year it won the Grand Prix de Geneve Jewelry Watch prize.
8. Ulysse Nardin – Royal Blue Tourbillon
Price: $1,000,000
Ulysee Nardin produced only 30 pieces of this beautiful timepiece which comes with a platinum case and bracelet with a total of 568 baguette-cut Top Wesseldon diamonds and 234 baguette-cut royal blue sapphires. The diamonds from this watch make a total of 33.8 carats while the sapphires total 16.79 carats.
7. Patek Philippe – Sky Moon Tourbillon
Price: $1,091,869
This is the first double-faced wristwatch from Patek Philippe and features the nocturnal sky on its reverse side with the motion of the stars, the orbit of the moon and its phases and a display of sidereal time. It also features a perpetual calendar, a tourbillon and a minute repeater.
6. Blancpain – Tourbillon Diamants
Price: $1,812,700
The Tourbillon Diamants from Blancpain features 480 embedded diamonds totaling 58 carats on the dial, bezel, case, lugs and bracelet. It is self winding and it has an exceptionally long power reserve of seven days. This luxurious timepiece is water resistant to a depth of 100 meters.
5. Parmigiani Fleurier – Fibonacci Pocket Watch
Price: $2,400,000
The Fibonacci pocket watch has a case decorated with enameling of a lotus flower which mimics Fibonacci's Golden Rule and it's represented by the snail shape. The watch features mother-of-pearl counters and a white gold dial with a minute repeater with cathedral chimes and a perpetual calendar. The piece can take up to two years to be made.
4. Franck Muller – Aeternitas Mega 4
Price: $2,700,000
The Aeternitas Mega 4 has more components and complications than probably almost every other watch in the world. It's made of 1,483 components and it has 36 complications. The watch displays three time zones and a 999-year calendar, it has a flyback chronograph and chimes the Carillon Westminster melody on the hour with small strikes on the quarter hour.
3. Cartier – Secret watch with phoenix decor
Price: $2,755,000
Cartier's Secret watch received an extra twist of luxury for this one of a kind phoenix shaped wristwatch. The timepiece is made of 18 carat, rhodium-plated white gold and it uses emeralds for the eyes and a big pear-shaped portrait cut diamond weighting 3.53 carats on it. The watch is covered by 3,010 brilliant-cut diamonds totaling 80.13 carats.
2. Piaget – Emperador "Temple"
Price: $3,300,000
The Emperador "Temple" from Piaget has actually two hidden watches that are revealed by pushing down on certain parts. The first watch has a set with 481 brilliant-cut diamonds, 207 baguette-cut diamonds and an emerald-cut diamond on the top of the case while the second watch has a tourbillon, a Polynesian mother of pearl dial, 162 brilliant-cut diamonds and 11 baguette-cut diamonds. The bracelet is also covered with 350 baguette-cut diamonds.
1. Louis Moinet – Meteoris
Price: $4,599,487
The Swiss watchmaker Louis Moinet introduced this new concept called Meteoris in the first month of 2010. The watch is actually a collection of four tourbillon watches, each made out of worldly materials such as meteorite from Mars, the moon, an asteroid and an ancient meteorite called Rosetta Stone. The company worked with universities around the world to authenticate these materials and this watch also come with a planetarium that depicts the solar system.
[BusinessWeek]