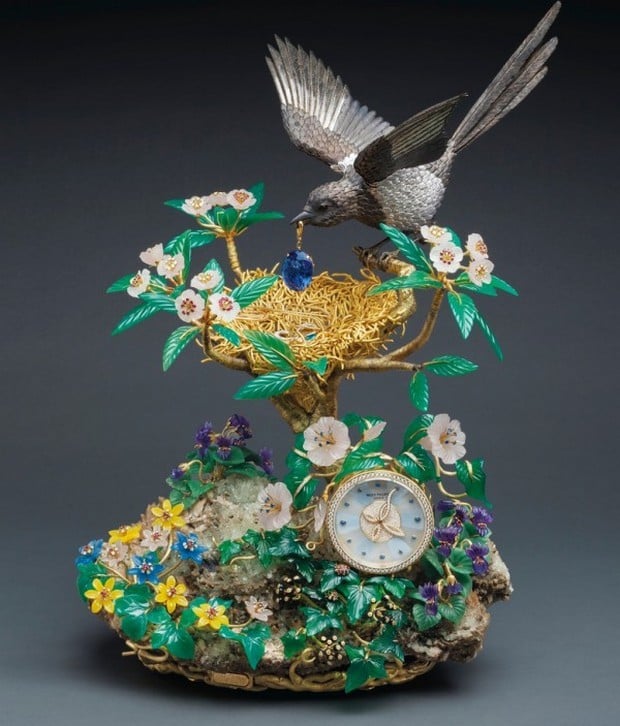 If you're bank accounts boast considerably above $2.3 million, why not buy a cutesy clock signed by Patek Philippe. This may seem just another proof of insanity but truth is what we have here is miniature art.
Dubbed Magpie's Treasure Nest Clock, one of the most precious pieces ever designed by Patek Philippe was auctioned off for a whopping HK$ 18.04 million (or $2.3 million) in Honk Kong recently. Suffice to say, the estimate price for the piece, of between HK$ 3 million and HK$ 5 million, was greatly surpassed.
Measuring 20.5 inches, this interestingly looking piece weighs approximately 33.2 lbs, as described in Sotheby's product catalogue. The design depicts a magpie feeding a young bird resting inside a nest. The base of the timepiece on the other hand was carved out of calcite, agate, onyx and other materials.  The artwork has further been encrusted with 24.95 carats of diamonds and 13.17 carats of rubies, most of them found on the carved flowers. A massive, stunning-looking blue oval tanzanite hangs from the beak of the magpie, weighing 104.75 carats.
The exquisite clock is now part of the collection of an Asian buyer, kept in anonymity. With this sale, Sotheby has marked a new record, as the fine watches sale on the 7th of April in Hong Kong had risen to a mind-boggling HK$ 221.5 million (approximately $28.5 million), the highest ever sale in the respective category.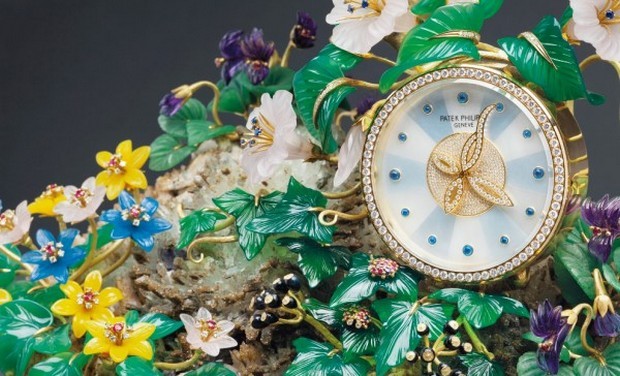 [LuxuryLaunches]