Wristwatches are a man's best friend. Combining fashion and function like no other accessory in a man's wardrobe, a watch will convey something that no other item is able to. Despite the fact that many believed watches to be dead in front of the more high-tech capabilities of a smartphone – and the trend showed exactly that from the beginning of the 00's until the all time low in watch sales in 2009 – wristwatches are making a steady comeback.
From the battlefields of the two world wars to the modern times of today, wristwatches are some of the most important accessories for both men and women. But while there are all sorts of watches and watchmakers out there, not many rise to the expectations and stand out the tests of time.
Few people will take a watch for what it really is. For most it's just a convenient way to tell the time and they rely on the most common, plastic build, digital battery watches. But those few, they care for a well built and magnificent timekeeping piece with automatic movement and are ready to pay thousands of dollars for such a watch.
Unlike their counterparts, automatic watches rely on a mechanism that's powered by the movement of the wrist. So as long as it sits on your wrist, it self-winds. These are the most well regarded in the world of watches and tend to go towards the higher end of the price spectrum.
But don't despair just yet. While most automatic watches are expensive, there are some good and affordable options out there. If you're interested, here is our pick of 10 Best Automatic Watches Under $500:
10. Seiko 5 Automatic Watch – $146
Japanese watchmaker Seiko is known not only in Japan but all around the world as one of the best watch manufacturers of our days. Always striving to offer quality timepieces at affordable prices, Seiko watches are worthy of our consideration.
The timekeeping piece that caught our eyes is the Seiko 5 Automatic watch. It comes in a 37 mm stainless steel case with black canvas strap and features a 21 jewel automatic movement, black dial, a Hardlex mineral dial window, transparent exhibition back and a day and date window. While it may not rise to the quality of its more expensive brothers, it's still a quality and affordable automatic watch at only $146.
9. Orient Bambino Automatic Watch – $168
Another reasonably priced and well regarded watch from Japan, the Orient Bambino Automatic, comes in great style and adapts to any outfit and wallet. The simple classic look hides great craftsmanship under a corrosion resistant 40.5 mm stainless steel case with a calf leather band. The date display and bold analog dial are protected by a domed mineral crystal window and powered by a Japanese built automatic movement.
With a history going back to 1901, Orient was once Seiko's competitor and has now become its subsidiary company. But they still make exceptional watches nonetheless. And this one makes no exception, despite the low price tag of $168.
8. Seiko Divers Automatic Watch – $199
Seiko takes another spot on our list with a simple and typical diver watch, the Seiko Divers Automatic, which is one of the brand's all time most popular watch. The Hardlex mineral crystal window protects the clean and stylish dial with large white hour markers, thick hands and date display.
Among other features there are a corrugated unidirectional bezel, a durable black rubber strap or silver stainless steel bracelet and a water resistant case up to 660 feet (200 m). At only $199, the price can be considered another good feature of the watch.
7. Bulova Men's Leather Strap Watch – $299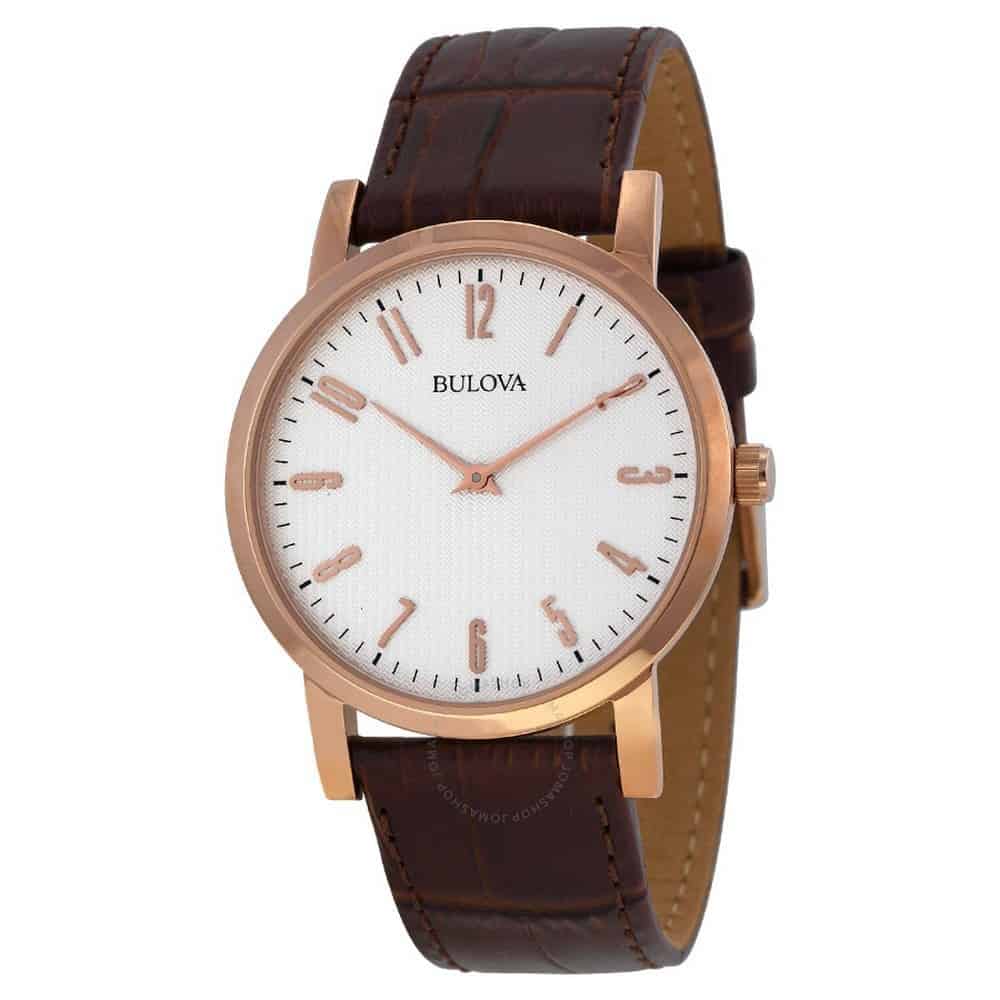 For those who mean business and want a more serious looking and reazonably priced watch at the same time, the Bulova Men's Leather Strap Watch is exactly what they're searching for.
The watch features a 21 jewel automatic movement encased in a 40 mm stainless steel case 13.5 mm thick, but what makes it appealing is the black finish of the dial with a see-through sub-dial, both protected by a mineral window. It doesn't come with a date and day display but the striking contrast of its black dial and clean slick numerals give it a distinct look for only $299.
6. Vostok-Europe Expedition North Pole – $299
Starting in 2003 as a cooperation between the Vilnius Koliz company and the Chystopol Watch Factory Vostok, the Lithuanian based Vostok-Europe watchmaker was born. From its inception, the company has quickly spread throughout Europe, becoming the number one choice of fighter pilots, military watch lovers, adventurers and many other individuals in risky fields of work.
The Vostok-Europe Expedition North Pole is a dive grade watch and one of the most rugged models in their line, perfect for the real adventurer. The Expedition North Pole comes with a big and bold dial protected by a scratch and shatter resistant K1 mineral crystal and features a 24 jewel automatic movement in a 47 mm stainless steel and 18 mm thick case. It's a marvelous sports watch with super-luminova luminosity for daring night adventures. Given all these features, the price is a decent $299.
5. Tissot Everytime Swissmatic Automatic Watch – $395
For those looking for a watch to fit a more classic outfit for formal occasions, the Tissot Everytime Swissmatic Automatic Watch is just about the right option. With a sleek minimalist look and timeless design and only the basic of features such as scratch resistant sapphire crystal glass, stainless steel case, black leather strap and Swiss automatic movement, this watch is a match on every occasion.
The clean black dial with minimal markers gives a cool and modern look to the watch, which even if it's a dress watch, it's waterproofed up to 100 feet (30 m). Part of the T-Classic collection, the Tissot Everytime Swissmatic is a wonderful addition to any stylish man but without breaking the bank, for it has a good price of $395.
4. Laco Augsburg Automatic – $400
The German watchmaker Laco is well known for the simplicity and refinement in the crafting of some of the most superb pilot watches in the world. Without being loaded with tons of bells and whistles, the Laco Augsburg Automatic Pilot Watch is the result of quality craftsmanship and style.
Its 42 mm stainless steel case shelters an automatic movement from Miyota and a stark black dial with Super Luminova numerals and dials protected by a scratch resistant sapphire crystal. The brown leather strap completes the stylish classic look. For only $400, it feels like a bargain since it's one of those watches that can be passed on to new generations.
3. Tissot Heritage Visodate Automatic – $449
The ever popular Swiss watchmaker Tissot is on our list with another classic timekeeping piece, the beautiful Tissot Heritage Visodate Automatic. Minimalist in its functions, it does one thing and does it well. It tells time. So don't expect anything else but style and good craftsmanship.
The simple white dial, 40 mm stainless steel case and calfskin strap fit perfectly together and make the Heritage Visodate Automatic a great dress watch. The Swiss movement powers the conventional hands and the only feature it comes with is the day and date window on the dial. For the $449 price, it's a decent and classic watch to have on formal occasions.
2. Jack Mason Aviator Automatic Watch – $495
Drawing its inspiration from the instrument gauges of an aircraft, the Jack Mason Aviator Automatic Watch brings homage to the classic pilot's watch by adding details that go beyond the traditional style of these type of timekeeping pieces.
With a 42 mm stainless steel case, clean black dial under a sapphire crystal glass and the brown Italian leather straps, automatic movement, exhibition case back and Super Luminova markings, the Jack Mason Aviator Watch masterfully combines the classic and the modern. And the price couldn't be better: an affordable $495.
1. Rossling & Co. Classic Automatic Watch – $499
With one of the most clean and beautiful watch designs, the Rossling & Co. Classic Automatic Watch strikes a chord with the more minimalist individuals out there. The 40 mm case is only 9 mm thick due to the ultra thin Miyota Japanese movement that's encased in it.
The date window on the dial is in tune with the minimalistic design of the watch and the slim blue hands are in perfect harmony with the dial markers on the pure white dial. The tweed strap with leather backing complete the elegant Bauhaus design of the watch. The price for this marvel of timekeeping is only $1 short of $500.