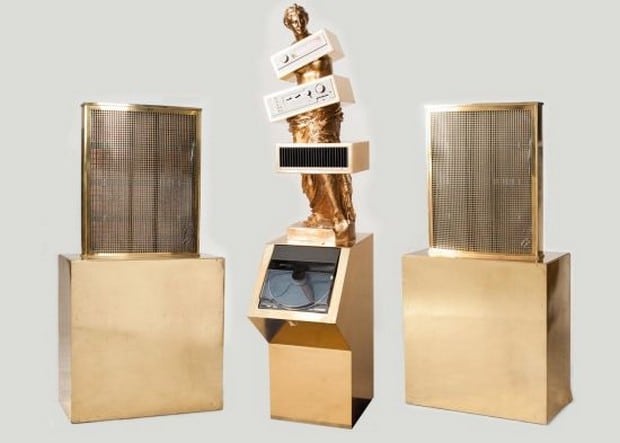 The links between Digitalist movement and the Dada movement, Surrealism or Pop Art are quite scarce by definition, yet the acclaimed German artist Petrus Wandrey has managed to take bits and pieces from them all and then mingled them to create a staggering stereo system. He has also integrated horizontal and vertical pixel sequences into his designs alongside computer junk or even hardware manufactured individually.
The artist is the creator of the 1981 Venus's Hifi stereo system, aimed for the 1981 Berlin Radio Show (the 1981 Internationale Funkausstellung Berlin), which is now being offered, alongside two massive Quad ESI-63 loudspeakers manufactured by Metallgestaltung Michael Schmidt, from Hamburg, on sale at Lauritz, a Scandinavian auctioneer website.
The set is simply awesome, featuring a gilded bronze sculpture alongside all sorts of painted and polished brass trim. The speaker housings have been crafted from metal and wood, painted and polished accordingly. There's also a manufacturer's plaque to be found on the speaker system.
The system is fully functional, having been function tested. It comes with absolutely no wiring but, as time went by, it has received some abrasions and scratches, while the metal connectors at the bottom corner and from the speakers are partially loosened, due to wear.
The stunning stereo system is expected to be sold for around $25,975 at the auction. The final bidding date would be the 10th of December.
[BornRich]