Qatar Prime Minister buys New York's Most Expensive Penthouse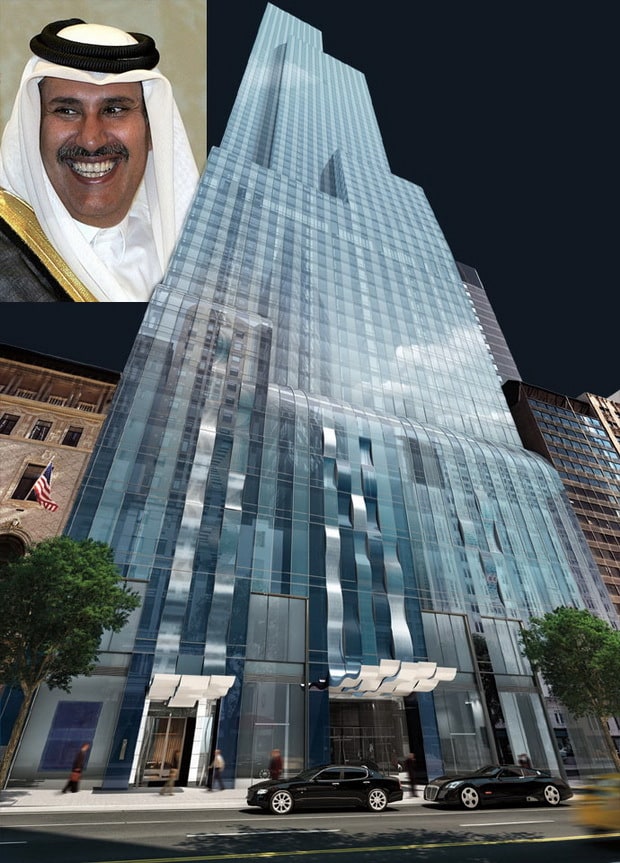 The Qatar Emir is the proud owner of one of the priciest homes in the UK, a luxury renovated mansion worth £200 million ($316 million) but now the Prime Minister of Qatar is closely following him, having reportedly purchased a $100 million penthouse, the most expensive in New York City.
Located in Midtown's One57 building, the penthouse was purchased during May by an anonymous buyer, his identity having now been revealed – it's most probably the Prime Minister of Qatar, Sheik Hamad bin Jassim bin Jaber al-Thani. It covers 10,923 square feet and resides a few hundred meters above ground, on the 89th and 90th floors, in the tallest residential building in Manhattan. If the price we've been hearing of is the right one, it makes this apartment the most expensive ever sold in New York.
In addition, it features a superb placement, right across the Carnegie Hall concert venue, in the middle of Manhattan, on West 57th Street. It sports a grand salon, especially built for entertainment purposes, more than 5 bedrooms, an absolutely huge mezzanine, extremely tall – 23 feet – windows through which one can view Central Park, motorized window shades, access to amenities like room service, courtesy of the 5-star Park Hyatt Hotel, located on a lower floor in the same building, a library adorned with a splendid aquarium and 4 majestic fireplaces.
The sheik has quite a large family behind him, a total of 15 children and 2 wives. Thus, in need of large spaces, it has reportedly spoken with Extell Development, the authors of One57, regarding the purchase of 4 additional separate condos, fully spreading over their floors, in the same building. If the acquisition does happen, the total cost would be raised to a whopping $250 million. No wonder Sheik Hamad is the proud owner of an extremely luxurious superyacht, one of the largest in the world.
A trusty source from Post stated that "at one point, they were talking about doing it in pieces, like four separate units, the four top floors, so no one knows about it." Extell though denied the connection between this penthouse and the Prime Minister of Qatar, allowing no chance for further discussions regarding the transaction. This matter requires some digging, indeed!
[Extravaganzi]