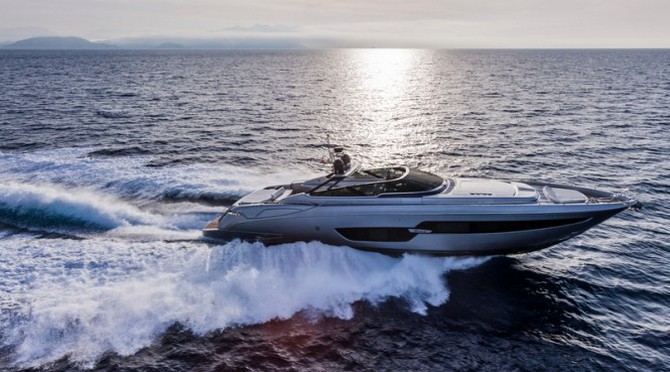 Unveiled together with the 88' Domino Super yacht, on May 18, 2015, the all-new RIVA 88' Florida Superyacht is a superb 26,84-metre vessel, boasting style, elegance and technology combined with amazing power and speed.
This luxurious motor yacht also features the exclusive Ferretti Group's 'Convertible Top' patented system, meaning it will shift from an open to a coupé configuration and vice versa by automatically operating the hardtop that can cover the pilot station in the cockpit.
The RIVA 88' Florida is the result of hard work and team effort of Ferretti Group's Product Strategy Committee, the Group's Engineering Department, as well as yacht designer Mauro Micheli, and Sergio Beretta, of Officina Italiana Design. The vessel also features the new 'Moon Grey' shade, a light metallic grey that enhances the yacht's slender lines, as well as 'Bright Black' shade details.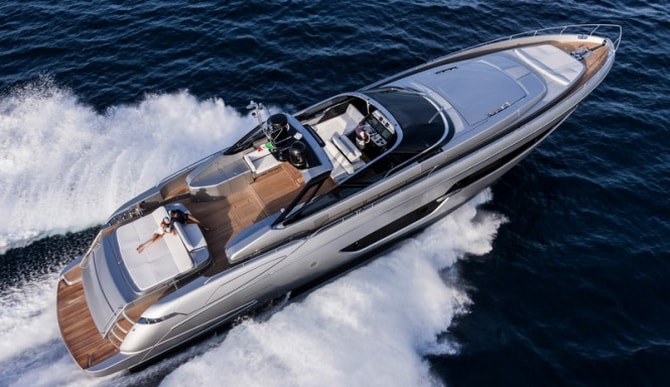 Accommodation aboard the 88' Florida superyacht is divided into four lovely and elegant en-suite cabins. Proudly showing off a retro 1980s vibe, the vessel has an amazingly bright, sound-insulated, full-beam master stateroom, as well as a VIP double cabin, with two wardrobes and a private head with separate shower.
Let's not forget the airy double guest cabin, with the private head and separate shower. The second guest cabin is fitted with single beds, dedicated head, as well as a round shower.
In its standard configuration, if you could call this jewel of the seas that, the 88' Florida yacht is fitted with twin MTU 16 V 200 M93, 2435 mhp engines, achieving an impressive top speed of 38,5 knots and a cruising speed of 34 knots. The range of 310 and 340 nautical miles, respectively, should satisfy everyone.
However, a more powerful engine configuration features twin MTU 16 V 200 M94, 2638 mhp engines that can push the craft to an impressive top speed of 40,5 knots and a cruising speed of 35 knots, ensuring a range of 300 and 330 nautical miles, respectively.