Louis Vuitton Escale á Paris Jewelry Collection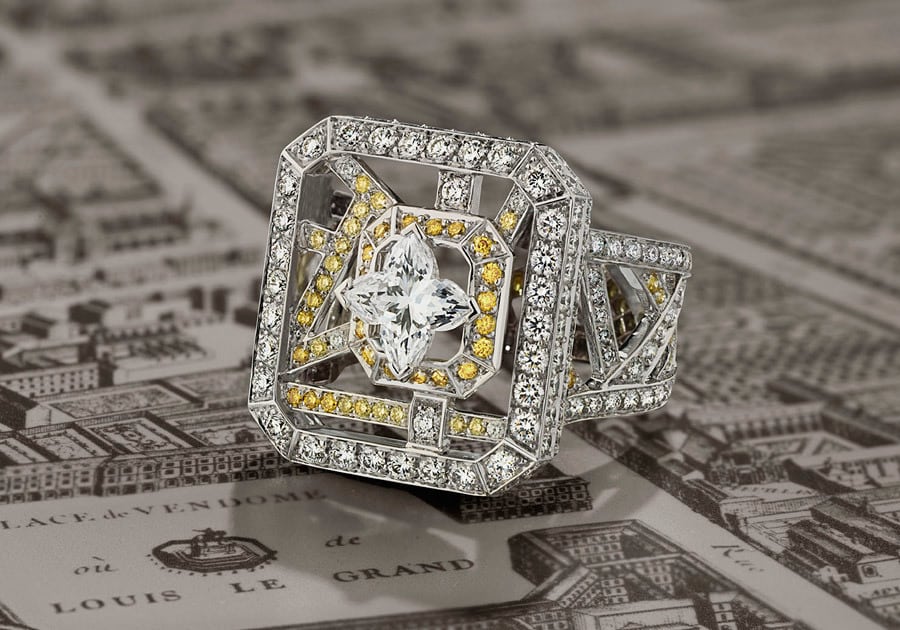 It hasn't been long since Louis Vuitton opened a high end jewelry store in Place Vendome, but the respective store is absolutely blooming. It has now received a brand new series of jewelry – we're introducing the Escale á Paris, part of the L'Ame du Voyage (Love of Travel) Collection.
This brand new series epitomizes the famous City of Lights via impressive representations of the boulevards of Paris through interesting white and yellow diamonds. Designed by jewelcrafter Lorenz Baumer, the set includes the Louis Vuitton Place Vendome bangle, the Vendome collar necklace (blinged with yellow and white diamonds, and a central diamond cut in Louis Vuitton's flower shape), the incredibly elegant Champs Elysees necklace, Jardin Earrings, the Jardin Ring and the beautiful Fontaine necklace.
The location where the collection is available, the Place Vendome, is a two-storey boutique with its own workshop, featuring a diamond cut in the shape of Vuitton's renowned flower logo, worth a stunning €9 million (around $11 million) and the Champs-Elysees ring, worth $92,000, encrusted with diamonds and rubies. The aforementioned ring is a beautiful representation of the streets of Paris, and, particularly, the Place Vendome.
The entire collection is pretty broad, featuring a lot more pieces than those we've enumerated above. The difference is that we've got photos for those we mentioned, so don't go wasting any more time and check out parts of the marvelous Escale á Paris.
[Thejewelleryeditor]