Girard-Perregaux Cat's Eye Jewelry – Gold Bridge tourbillon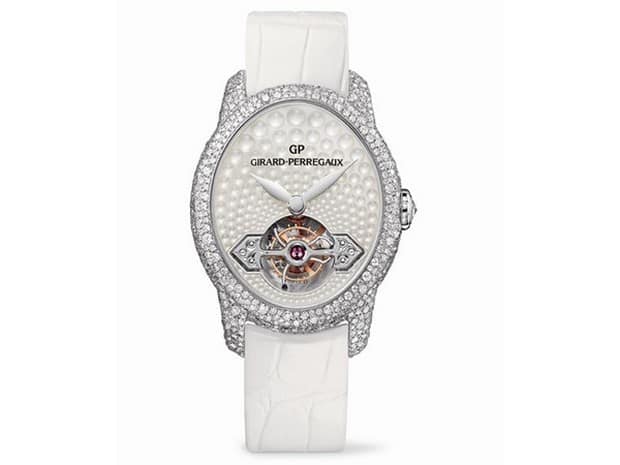 If it's a Girard-Perregaux, it's quite a piece – and the Cat's Eye Jewelry is no stranger to this. A fantastically beautiful timepiece adorned with jewels and sporting a tourbillion with Gold Bridge, it is one of Girard-Perregaux' most exquisite wristwatches.
Haute Joaillerie is, yet again, one of the motifs they've relied their work on. This perfect example of the finest watchmaking and fashion jewelry blend is quite a looker as well, featuring a mother-of-pearl dial described by Girard-Perregaux' folk as "the hallmark of fine watchmaking dedicated to women."
Moreover, the Cat's Eye Jewelry has been intricately embellished with in excess of 1,000 snow-set diamonds, while the case is crafted from white gold and is entirely garnished with diamonds. The superbly polished natural pearl dial is also covered by a anti-reflective sapphire crystal, for reasons of protection and visibility.
Topping this timepiece, apart from the humongous number of jewels fitted on it, is the majestic Gold Bridge hand-engraved tourbillon. In addition, the timepiece is powered by a GP09700 Girard-Perregaux manually-wound movement with power reserve of 70 hours. It is comprised of 177 parts, all of them mounted, assembled and decorated carefully, exclusively by hand, encased in the fabulously looking white gold case, alongside a snow-set folding clasp and alligator-leather strap.
Probably that's why it comes with 30-meter water resistance as well. And also to be considered is the possibility of the piece to be engraved at the back with anything the customer wishes. We don't know it's price, but it can be found out only on customer request.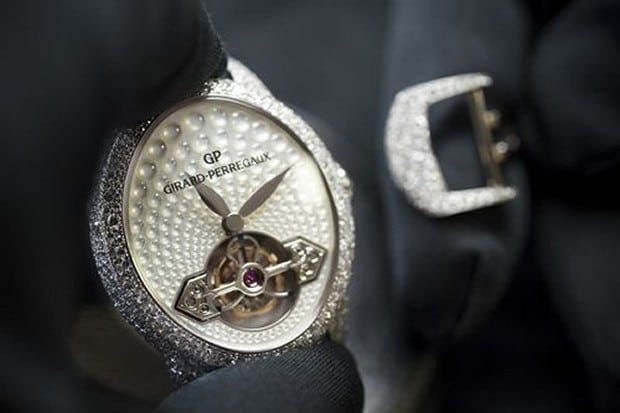 [LuxuryLaunches]