The Eleven Most Expensive Chocolates in The World
You would think that gold is precious, but there are other things in this world that are even more precious than a bar of gold. A bar of chocolate. Yeah, chocolate is one of the most beloved and cherished sweets on this planet. It might even be the only reason for life on earth.
Chocolate seems to have originated around 1900 BC in Mexico, arriving in Europe only much later, during the 16th century. And since then, we just can't get enough of it.
Chocolate has become ubiquitous. It's one of the most popular foods and flavors in the world, used in candies, cakes, brownies, cookies, pudding or beverages, hot or cold, sometimes even alcoholic. Dark, milk or white, chocolate comes molded in the form of the Easter bunny or as Santa during Christmas and many other varieties.
With so many types of chocolate around made with all kinds of interesting ingredients, the price of it varies accordingly. Read on to find out which are The Eleven Most Expensive Chocolates in The World:
11. Godiva "G" Collection
Chef Norman Love created the Godiva 'G' Collection chocolate box, a delicious mix of unique flavors and ingredients such as Palet d'Or, Tasmanian Honey or Mexican Hot Chocolate.
It contains 15 fine chocolate pieces of the most exquisite Belgian taste, and each and every bite will delight your taste and fill your heart with joy. That after making it sink down in your chest, since the price of a box of such chocolate costs no less than $120.
10. The Aficionado's Collection Chocolates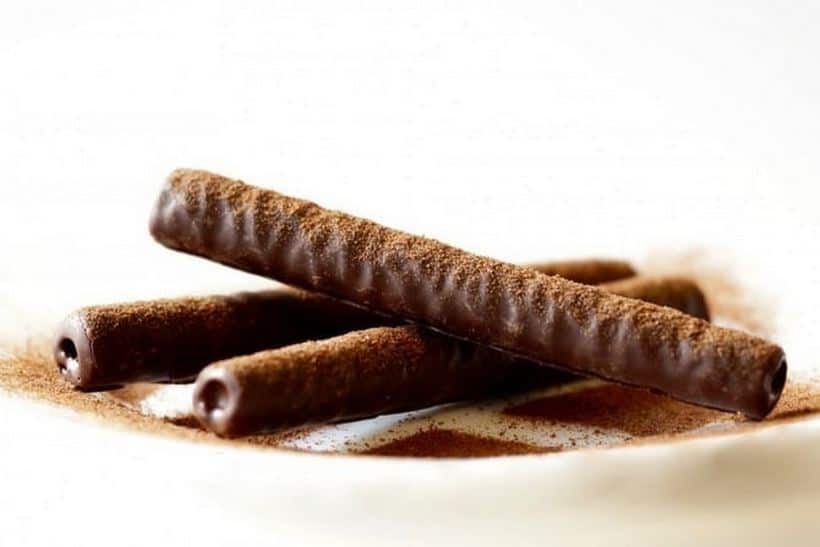 Made for those in love with both cigars and good chocolate, The Aficionado's Collection Chocolates recreates the shape of a cigar and imitates its aroma through Italian roasted hazelnut and milk chocolate as the main flavors.
Created by The House of Grauer in Switzerland, The Aficionado's Collection Chocolates wants to leave a lasting impression on the smoker's senses through its good combination of cocoa leafs and beans. The price for such an indulgence is a whooping $275.
9. DeLafee
The Swiss company DeLafee is renowned for its mix of chocolate and edible gold. Their Golden Truffles, made of cocoa beans, coconut oil, sugar, cocoa butter, vannila and milk powder have 24-carat gold flakes as a special ingredient.
By decorating their epicurean products with edible gold, they've led chocolate making to another level. Their luxurious merchandise makes for unforgettable gifts which convey messages of passion and love to the lucky ones receiving them. We said lucky because their Golden Truffels are a great luxury present costing a staggering $504.
8. Michel Cluizel Box of Assorted Treats
The French chocolatier Michel Cluizel started his business back in 1948's Normandy and has since become the largest manufacturer and producer of fine chocolate, offering a wide variety of chocolate to the entire world. His company owns private cocoa bean farms throughout the globe in regions like Venezuela, Sumatra, Cote d'Ivoire or Java.
A Box of Assorted Treats will cost you a staggering $895 but the 400 pieces of delicious handmade chocolate wrapped in special designed customizable packages will more than sure worth every penny.
7. Gold and Diamond Chocolates
If you ever dreamed of eating gold, silver or diamonds, your dream is now possible thanks to Cocoa Gourmet's Royal Collection of chocolates, filled with Swiss ganache, a dark, semi-sweet combination of chocolate and cream.
One box of Gold and Diamond Chocolates comes with 12 pieces, four of them made with pure silver, four with 22 carat gold and four with sweet diamonds. They're all edible, and the price surely matches the value of the chocolate jewelry pieces inside, for it's a high $1,250.
6. Wispa Gold Wrapped Chocolate
Cadbury UK is a much appreciated chocolate brand for their fine quality and the expensive gold wrapping. Their Wispa Gold chocolate bar, first launched in 1981 in limited numbers, was brought back in October 2008 by a campaign of several celebrities, among which are Tony Hadley and Spandau Ballet.
Back in the days it was considered the most expensive chocolate in the world due to its gold wrapping and its popularity grew back today after the campaign. The price wasn't left behind, reaching a staggering $1,628.
5. Knipschildt Chocolatier
Fritz Knipschildt started his Chocolaterie back in 1999 in his small one-bedroom apartment and began selling chocolates to local retailers. Since then he kept on growing, moving on to larger retailers like Dean & Deluca or Martha Stewart, eventually creating his own company, Knipschildt Chocolatier, LLC.
The Danish chef offers truffles for a good $250 apiece or a whooping $2,600 for 450 grams of one of the best chocolate truffles in the world. His Café Chocopologie in Norwalk is the best place to taste them and it even lets you witness the process of creating the precious truffles.
4. Swarovski-studded Chocolates
For the amazing price of $10,000 you can get your hands on a box of 49 pieces of Patchi Swarovski crystal embedded chocolate, placed in an Indian silk holding with leather pads adorned with gold and platinum, making for a great gift for that really special someone.
The whole idea started as a collaboration between Patchi and Harrods in an attempt to make one of the most exquisite chocolate boxes in the world, and they did quite a good job. Due to the exclusivity and great design of the chocolate box, made in Lebanon, they won the title of Best Chocolates in the world by the Academy of Chocolates. You didn't know such a thing even existed, did you?
3. Golden Speckled Egg
Designed by William Curley, the Golden Speckled Egg got into the Guiness Book of World Records for being the first non-jeweled chocolate egg. The shell of the egg is made from Amadei chocolate, a type of chocolate coming from Venezuela and considered one of the best in the world.
The inside of the egg consists of several other ingredients such as Muscovado Caramel, Rosemary, olive oil and Juniper berry, offering new delights with each bite. The unique delicacy was sold at an auction for a whooping $11,107 to Cyrus Vandrevala, an important – and lucky – technology investor.
2. Frozen Haute chocolate
Served at the famous restaurants Euphoria New York and Serendipity 3, the Frozen Haute chocolate is a delightful dessert consisting of 28 of the best cocoas in the world.
The dessert is made with edible gold and comes with a diamond adorned gold bracelet at the base of the goblet and was included in the Guiness World Records book as one of the most expensive desserts throughout the globe. If you hope to have a taste of it, you need to order it in advance because it takes quite a while to prepare it and you need to be ready to say goodbye to a hefty $25,000 for it.
1. Le Chocolat Box Collection
Designed by Simon Jewelers, Le Chocolat Box Collection is an exquisite blend of dessert and jewelry. The gourmet chocolates come from Lake Forest Confections and the jewels belonged to Simon's private collection, including necklaces, earrings, rings or bracelets.
A box of these chocolates won't come cheap at all with the astonishing price of $1.5 million, but for sure it will impress any woman with its blue and yellow diamond rings, sapphires and emeralds elegantly combined with the sweetest of delights. It's the ultimate gift a woman could ever hope to get.