The 15 Best Single Malt & Blended Scotch Whiskies
Updated on March 10, 2022
First mentioned in 1495, Scotch Whiskey has been born in the Exchequer Rolls of Scotland, under the beautiful name of Aqua Vitae or Water of Life. Since then, Scottish distilleries have fine tuned its production to get an incredible product, which must be distilled in pots from a single distillery and aged for at least three years and a day in oak casks.
More than 500 years later, whisky is produced all over the world, from the US to Australia, from Switzerland to Japan and even in India, but the major production and the highest quality whiskies still come from Scotland.
If we made you curious, keep reading to find out which are the 15 Best Single Malt & Blended Scotch Whiskies around. Each and every one of the drinks on this list is amazing so we chose to rank them according to their price, but you should try them all at least once. Not all at once, no. We meant once in your lifetime.
15. AD Rattray Cask Islay – $60
Renowned for its complex, unique and refreshing flavors, the AD Rattray Cask Islay whiskey offers a perfect combination of citrus notes, barley and burnt toffee, all surrounded by rich peat smoke.
It leaves a classical Islay taste on the palate in which you'll feel the influence of the sea and it finishes in a sweet, spicy, hot and smoky aroma. It's one of those drinks that will charm you with its flavor profile and fine quality.
14. Islay Mist 17 year old – $70
Coming from MacDuff International, this blended whiskey continues the fame of the original 1920's one with a more balanced and approachable interpretation of Islay Scotch. The Islay region is legendary for its great aromas and the Islay Mist 17 YO certainly tries to bring you there.
It will grab your nose with smooth notes of peat and smoke combined with tobacco, toffee and green grapes, then charm your palate with flavors of walnuts in a honey mix and leave you a smoked aftertaste with toffee rosemary and thyme.
13. Buchanan's 18 year special reserve – $70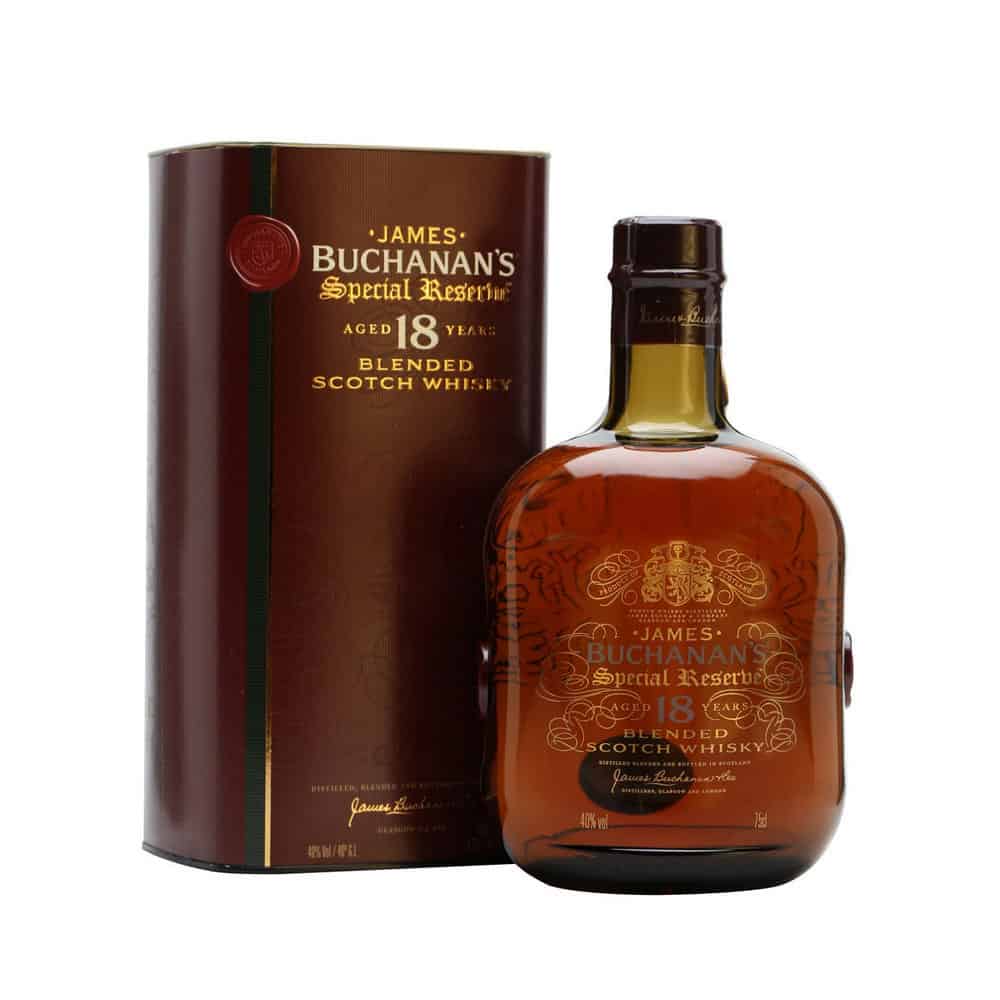 Buchanan's pride themselves with their work and the fine products since their inception back in 1884. One of their highlights is the 18 year old special reserve whiskey.
It starts with tones of nutmeg, allspice, cinnamon, prunes, tangerine zest and honeyed tree fruit on the nose. The palate then gives you all the complexity you would expect in an aged whiskey, with caramel, walnuts, citrus zest and vanilla notes, leaving you with an aftertaste of coffee, chocolate and cigar smoke. Buchanan's 18 Year Special Reserve packs some of the best things in the world into every sip, leaving you longing for more. And more.
12. Chivas Regal 18 Year Old – $79
Chivas Regal 18 Year Old is a blend of over twenty of the finest single malts from all over Scotland, balanced and smoothed by adding more malt afterwards.
It has won quite a few awards in the past years, so you can rest assured it's a unique treat with its tones of vanilla, peel, malt and spices on the nose, marmalade, chocolate and oak texture on the palate and a finish which brings back the flavor of spices.
11. Compass Box Hedonism – $80
With a history that spans over a century, the Compass Box Hedonism is quite an original grain blended whiskey to the contemporary world. Held in old barrels bought from distillers like Cameron Bridge or Dumbarton, this Scotch blend offers nothing but the best.
Its producer, John Glaser, created it only for the hedonists. It has an aroma of toffee, vanilla and coconut cream with a follow up of heather honey, almond brittle and oak touches.
10. Ardbeg Uigeadail – $82
With an eponymous name coming from the lake they take the water from, which in Gaelic means 'dark and mysterious place', the Ardbeg Uigeadail is a highly complex whiskey which won the 2009 award for the World Whisky of the Year in a Jim Murray competition.
Considered the apex of whiskies from the Islay region, it has touches of smoke and leather from the maturation in bourbon and sherry casks and a rich flavor of cinnamon, smoked ham and dark honey.
9. The Glenlivet 18 Year Old – $90
With two gold medals won at the International Wine and Spirit Competition, the Glenlivet 18 Year Old is an excellent single malt whiskey, a classic Speyside drink.
On the nose it leaves a well rounded note of toasty cereals, barley sugars, sultanas and a thing puff of smoke. It continues with a rich flavor of biscuits, toffee and malt on the palate and leaves a sweet spicy oak finish.
8. GlenDronach 18 Year old Allardice – $90
From the famous eponymous distillery comes the best single malt whiskey they can offer, the GlenDronach 18 Year Old Allardice, matured for 18 years in Oloroso sherry casks.
It has a classic taste with more body and depth than your usual whiskies, with balanced tones of espresso, nuts and treacle. The fact that it won several awards in the last few years should be enough to convince you to get your hands on a bottle. At least one.
7. Balblair 1999 – $91
The Balblair 1999, aged for 15 years in former bourbon barrels and sherry butts, is a lighter toned single malt whiskey with a rich taste of honey and green apples with spice, citrus and vanilla notes, making it your ideal companion for the summer. Just don't forget that summer doesn't last forever.
6. The Macallan Sienna – $100
Part of a collection of naturally colored whiskies carefully chosen for their flavor and sherry-aged 1824 Series, the Macallan Sienna is one of the most intense whiskies in this range.
The Sienna stands out with its notes of orange peel, vanilla and hot-cross buns continuing with raisin, apricot and currant tones on the palate and finishing with a fruity aftertaste, spiced with a slight touch of anise.
5. Usquaebach Rare – $125
Usquaebach comes from the 'uisge beatha' which means the water of life and it was the medieval title of the liquor. It brings aromas of earth, dried fruits and spices with notes of vanilla, oak, spice and dried leaves on the palate and a finish of fruit and spice.
The bottle it's sold in is a ceramic flagon, recreating the historic stone flagon it was served in when only the royalty had the pleasure to enjoy this exquisite whiskey.
4. Lagavulin 12 year old – $130
Coming from Diageo's Special Releases, the Lagavulin 12 Year Old single malt matured in American Oak casks is highly appreciated in Islay but quite unknown outside.
It has a wonderful tone of nuts, citrus and peat on the nose, with a taste reminding of herbs, cocoa, ash and smoke that leans toward a citrus combination. Since it's not that well known outside Islay, you should get yourself a bottle at this price while you still can. Or maybe several.
3. The Balvenie Single Barrel Sherry Cask 15 Year Old – $155
The Balvenie Single Barrel Sherry Cask is matured in a single European oak sherry barrel for 15 years, so expect unique qualities from each one. A barrel like that can fill a batch of up to 650 bottles, so it's like a limited edition.
Given the diversity of the batches, they'll have different flavors, so don't expect to have the same taste each time you try a bottle. The dominating aromas are those of spices, fruits and nuts leading to a chocolate finish.
2. Glenmorangie Signet – $190
The Glenmorangie Signet is one of the best single malt whiskies coming from the Highlands, distilled from roasted chocolate malt that gives a wonderful richness to the taste and a more exquisite color.
The aromas that first come to life are those of chocolate with a persistent cocoa taste, continuing with tones of cinnamon and citrus and with a fruity finish.
1. Johnnie Walker Blue Label – $225
The Johnnie Walker Blue Label is the best this famous brand has to offer, a rare blend which is carefully hand-selected out of 10,000 casks for its specific smoothness and taste.
Each bottle is individually numbered like in the old times. A sip of the drink is a rich and intense experience which brings mellow rounded flavors with smoky touches combined with the sweetness of raisins.