Nowadays we all have digital cameras on our smartphones and many of them can take pretty good pictures, too. This is fine for casual users, however professional photographers need a little bit extra and go for those high-quality digital cameras which capture sharp, detailed, high-quality images. The following list contains cameras that a bit overkill ever for them.
10. Olympus Pen Art Edition by Suzko – $25,000
Japanese company Olympus teamed up with London's legendary department store Harrods in order to create a special edition Olympus Pen camera.
In the creative department, the manufacturer collaborated with urban artist Suzko, with fashion photographer Jay McLaughlin also joining in to document the customization process. Each Olympus Pen Art Edition camera is unique designed and exclusive to Harrods – and also comes with a matching Vespa scooter, as well as a photographic training session with McLaughlin. This would explain the price, which is about $25,000.
9. Leica M9 Titanium – $26,500
The people over at Leica sure love their special edition cameras and the M9 Titanium is another great example of that.
No points for guessing the material the device is made from – of course, it's titanium, which is also what to used to create the Summilux-M 35mm F1.4 lens. Fitting for such a beautiful collector's item, the logo itself has seen something of a facelift, as it has been hand-engraved in pure resin and inlaid with white enamel. The price for one of these is excellent cameras is $26,500.
8. Hasselblad H4D – 40 Ferrari Edition – $29,500
Hasselblad is a prestigious Swedish camera manufacturer known for supplying the cameras for the Apollo missions that went to the Moon. And Ferrari, well, need no introduction. The two companies joined forces to create the exquisite Hasselblad H4D-40 Ferrari Edition, an excellent mix of quality and style.
The camera wears the iconic Ferrari Red Rosso Fuoco and displays the equally famous prancing horse logo. As another nice touch, it comes in a splendid handmade glass topped case.
The H4D-40 comes with 40 megapixel, 33.1 mm by 44.2 mm sensor an weight about 5 lbs. with everything in place. Only 499 of these have been produced, priced at $29,500 each.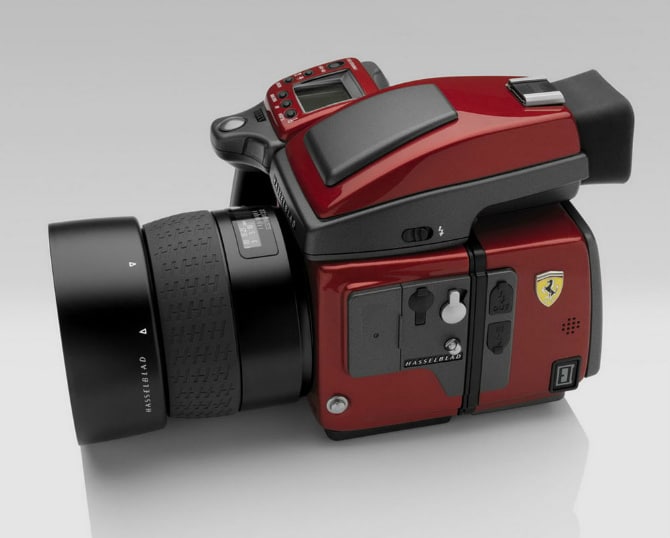 7. Leica S Edition 100 – $34,000
The Leica S Edition 100 is one of a number of special edition cameras created by the German manufacturer in 2014 to celebrate its centenary. It's a medium format camera with a large 37.5 megapixel 45×30 mm sensor which yields very sharp, high quality images.
Due to the fact that it is a special edition, both the camera and the lens feature a unique 'Edition 100' engraving, while the box it is delivered in is an eye-catching bright aluminum alloy. The price for one of these is $34,500.
6. Panoscan MK-3 Panoramic – $40,000
The Panoscan MK-3 Panoramic is a camera with the technical prowess to match its price. It is the fastest camera when it comes to capturing digital panoramic photos without requiring the stitching of images and without the loss of detail and quality (in fact, it can take a full resolution 360-degree image in just 54 seconds).
Designed, according to the manufacturer, "for rugged field use", the MK-3 Panoramic is definitely for intended for amateur use. Its weight of 9.5-pounds and price tag of around $40,000 are further indications of that fact.
5. Seitz 6×17 Digital – $43,000
Swiss camera manufacturer Seitz created the world's first and only digital 6×17 camera – rather uncreatively called the 6×17 Digital. This beastly piece of equipment captures amazingly clear and beautiful 160 million pixel images, at a very fast rate of 300 MB per second. The camera also comes with high-end Schneider lenses on Seitz boards, as well as Linhof or Fuji 617 lenses.
According to Seitz, the camera is "ideal for high resolution landscapes, group photography, fine-art, architecture photography". But you have to have really deep pockets if you want to even close to one of these, as the price of the 6×17 Digital is a hefty $43,000
4. Hasselblad H4D 200 MS – $45,000
Hasselblad's H4D 200MS is based on the company's H4D-50MS with its 50 megapixel sensor and uses sensor-shift, multi-shot (MS) technology to create a 200 megapixel file from six images taken at slight offsets. As you'd expect for something of this quality, the camera is intended for professional photographers who know how to use it, specifically those who take pictures of still subjects, things that can stand in place until the camera captures six shots. Not to mention the fact that its cost is prohibitive for all but the most deep-pocketed photographers, as the price for a H4D 200MS is $45,000.
3. Leica M9-P Edition Hermes – $50,000
The partnership between Hermes and Leica is quite well-established (thanks to the late chairman of the French luxury brand, Jean-Louis Dumas), so it's no wonder the German camera manufacturer released a luxurious limited edition Leica M9-P in collaboration with the high-fashion company.
The camera is clad in 'Veau Swift' calfskin leather and has a few subtle redesigned features, in addition to the fact that is was released as part of an exclusive 100-piece collection. Otherwise, with regards to its technical details, the Hermes Edition is similar to the standard Leica M9-P camera.
2. Canon Diamond Ixus – $54,000
In order to celebrate the 10 year anniversary of its acclaimed Ixus compact camera, Canon released a series of diamond-clad cameras worth an amazing $54,000.
The Canon Super Diamond Ixus is adorned with 380 diamonds supplied by Antwerp-based Eddie Elzas (owner of the world's largest collection of colored diamonds). The technical specs for this glittering device have not been improved from the 6-mexapixel original, but the value of the item as a collector's piece is undoubtedly significant. Plus the proceedings from the auction for the 10 pieces that were eventually made went to the Red Cross, so there's that too.
1. Phase One 645DF with P65+ Sensor – $55,000
For those who aren't satisfied with anything but the very best, Danish high-end digital photography specialist Phase One has created the 645DF.
This medium-format monster can capture images of unparalleled quality thanks to its highly-rated 80 megapixel P65+ digital back sensor, the most valuable part of the setup. The camera body, the three lenses, and the sensor cost more than most people's cars – a jaw-dropping $55,000. And none of that is in bling, all that money goes into sheer image quality – which is truly amazing.